I've got frogs.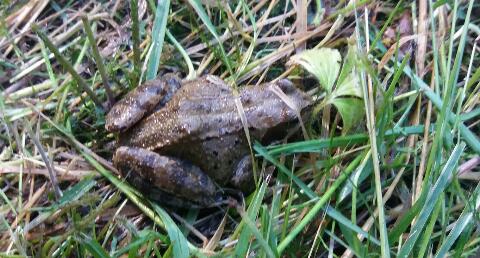 Ireland
August 4, 2016 10:57am CST
I tackled the weeds in my un-mown back garden this afternoon, alotting 15 minutes to the task to preserve the integrity of my poor back. I soon discovered that I would have to be careful to preserve the integrity of two big and beautiful frogs who were being lazy in the wet undergrowth. They were loath to move out of the way of the noisy mower and I dreaded decapitating them or any of their kind who were lurking nearby. So when my 15 minutes was up I had accomplished not as much as I had hoped, but at least the frogs still have their heads, legs and a wet, grassy home.
6 responses

• El Paso, Texas
4 Aug 16

for the frogs, ya done good ..... I've only seen frogs in photos these last couple decades, we don't get enough rain for them most years.

• Los Angeles, California
4 Aug 16
That's cool you have frogs! Frogs are neat and fun to watch.

• Boise, Idaho
4 Aug 16
I wonder if they are deaf or just lazy. Most skidaddle when loud noises come their way.

• Ireland
4 Aug 16
@celticeagle
My wife has a cat who refuses to skidaddle even when I drive up to the house and I have to stop short and get out to shift him before getting in the drive.

• Boise, Idaho
5 Aug 16

• Italy
4 Aug 16
Good that you saw them in time and didn't do any harm, they must have been grateful.

It must have been a nice surprise too, which repays the fact that your task wasn't actually fully completed.


• Ireland
4 Aug 16

• United States
4 Aug 16
We have a toad that my husband has not chopped up yet with the mower. Takes a lot of bobbing and weaving. If one does not kill a toad or frog, they have a straight shot to heaven.

• India
4 Aug 16
and am sure they are entertaining you with their orchestrated voice, every evening