My Instant Noodles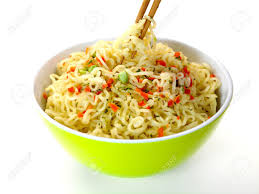 Philippines
August 5, 2016 12:51am CST
Instant noodles are one of the world's most popular foods. Me and my children love to eat instant or cup noodles. I really love that new creamy cup noodles. They're cheap, they're easy to make, and they are delicious, with so many different flavors available. But did you know that these noodles can increase the risk of heart disease and stroke? I was surprised too when I got to read this. Harvard School of Public Health conducted a research regarding this noodles. It was found that people who eat noodles regularly have an increased risk of developing "metabolic syndrome." This happened regardless if the person exercised or ate an otherwise balanced diet. Metabolic Syndrome includes the following health problems: High blood pressure,high blood sugar, and increased risk of heart disease, stroke, and diabetes. Do you love to eat noodles now? Photo credit: 123rf.com
10 responses

•
5 Aug 16
No, not a fan of instant noodles.

• Manila, Philippines
5 Aug 16
Im not a fan of instant noodles, but I always have them in my house, just in case. There are days, I don't feel like going through a cooking process, so yeah, instant noodles will do. For example, I can't remember the last time I ate that. Yesterday, I participated in a discussion here, about someone saying she won't take balloons because of the risks. I replied to her that, if we have to rely on the odds of dying from doing one thing or another, then there are many things nobody will do anymore. They are saying that, the odds of dying with a car accident are over 90%, should I park my car, and go to school walking? What is the thing that we use the most in a week more than a transportation (specially for us workers)? So, I will say, I usually read all those articles, but I keep them under suggestion, because at times, I think they are more intoxicating than informing

• Philippines
5 Aug 16
I agree with you. We all know that these instant foods bring bad effects. Even if we will not read reviews or researches about them, still we can tell that they not good to our health. Now, if we avoid buying and eating all of these instant foods, that means we're gonna have lots of cooking to do. And for busy people like us, who arrive home tired all the time, this idea will not help us.

• Philippines
5 Aug 16
@magallon
Eating instant occasionally is not that bad.

• Philippines
5 Aug 16
No. When I was an elementary student, one of our teachers discourage us from eating instant noodles. She told us those are called buffer food. Food that can make us feel full but actually doesn't have any health benefits to our body.




• Cagayan De Oro, Philippines
6 Aug 16
Yeah, me too love noddles,but I add some vegetables hehehe.

• Cagayan De Oro, Philippines
7 Aug 16
@magallon
Nice double eggs hehehe.



• Philippines
5 Aug 16
that is a frightening fact: still I have no choice because its the cheapest breakfast for the table.

• Philippines
5 Aug 16
@magallon
and we don't thing of that negative side of that food because of this reason.

• Philippines
5 Aug 16
@ilocosboy
Yeah, even if we know that its bad, we just ignore it.


• Roseburg, Oregon
5 Aug 16
My kids love to eat instant noodles they sure are good by themselves or add something to them.

• Japan
5 Aug 16
I can't say no to pancit canton.