ART ATTACK !!!!!!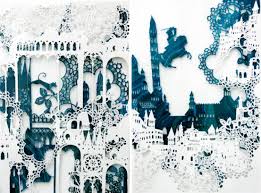 Mumbai, India
August 7, 2016 1:39am CST
Paper art is the most traditional art .The beautiful discoveries mate by papers attract many peoples towards it ."Art in human heritage is a continuity of tradition and innovation".This wonderful discoveries are having won capacity for leading factor. I just love paper art the show pieces,the ornament ,the beautiful designed anklets etc...are my awesome collection.. do you have interest in paper art.....
5 responses

• United States
7 Aug 16
Ever since I can remember I have done my art on paper. But as I got older I found that not only only are there may mediums like pastel chalk, and oils, and watercolors and such, but different ways to use them. They have even invented something that is supposed to absorb the awful smell of oils and turpentine, which is great because i was not able to use them before because of my asthma. I have some friends that do their art on the computer even. But sketching on my sketchpad, and doing my watercolors on the watercolor paper I get I think is the best.


• Dhaka, Bangladesh
7 Aug 16

• Ahmednagar, India
7 Aug 16
So beautiful art. I am weak in artwork so I have never done any artwork.

• India
7 Aug 16
I like this art very much. I myself do paper quillin art. I have showcased paper quillin art in a few exhibitions and earned good amount also.