How can one learn common sense?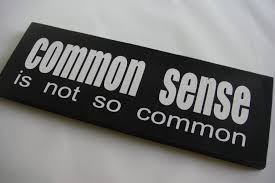 United States
August 7, 2016 12:22pm CST
I do not always do things in a smart way, sometimes i can do irrational things or act impulsive. I have already completed two courses, political science and law, but still my boyfriend sometimes when we quarrel, he always points out the way I act, that it is irrational, most of time he points out that alot of things that are common for others to think about on, or common for other people to think or do, and i do not them or think common as them. I am still learning about of lots of things, and this "common sense" thing gets me..
1 response

• Australia
7 Aug 16
I learned from smarties that discussing in arguments is to always stick to the main premise. Your goal is to arrive at the truth by giving reasons why your premise justifies you in believing your conclusion. Criticizing people's mental qualities isn't the right way to have an open discussion. Don't let anyone negatively dictate to you what you are not. People have different points of view from others. And we are allowed to think them, and be able to express them with well-informed reasons and facts.

• United States
8 Aug 16
Thank you, i will keep this in mind.. sometimes their opinion just get me, but will keep remembering this...