"I'm fixing a hole where the rain gets in, and stops my mind from wandering..."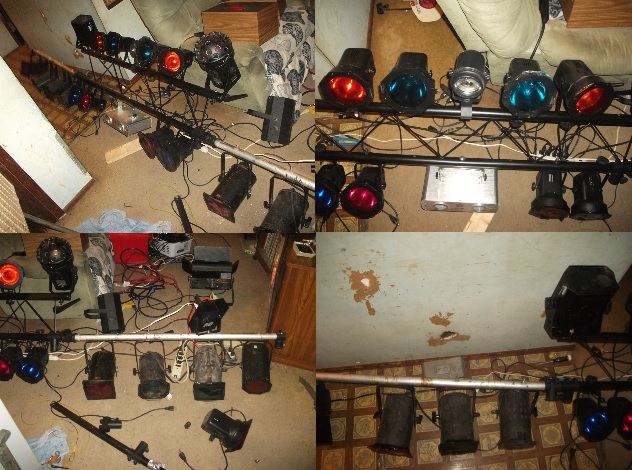 United States
August 7, 2016 11:51pm CST
Well, work finally began on the new roof for the house today. Two thirds of the old shingles and tar paper have been removed, and new decking put on half of it. While it wasn't in as bad of shape as I thought it would be, it was still pretty bad. So that's going to wind up an extra $650 than what we were quoted, but that isn't the roofers' fault...he couldn't see how bad the decking was until he pulled the shingles and tar paper. So other than a lot of loud sounds from the stereo to drown out all the banging on the roof, I finally got all my lights hooked up for the shows I do with live bands...they'll look really good after I get them hung up properly.

LED lights are cool, but I just like the way cans look...yeah, they get hotter than hell, they're heavy as fuck, and they suck electricity more than my ex su...
8 responses


• United States
8 Aug 16
Yes, it is my roof. Scar spent all day sure that monsters were trying to get him. Poor guy.


• Singapore
8 Aug 16
@JolietJake
Ok. Hope the new roof will last a long long time. I'm sure it must have cost you a bomb to get it done.

• United States
8 Aug 16
@succeednow
It's probably going to be close to $5,000.00



• United States
8 Aug 16
They should finish putting the rest of the decking on this morning and throw down tarpaper, then start laying down shingles this afternoon. They'll probably finish the job late tomorrow morning.

• Canada
8 Aug 16
@JolietJake
I'm not familiar with the term decking with a roof, is that new sheets of plywood? We've had a couple of roof replaced over the years and I think that the need to replace the plywood was an unknown until the old shingles were removed and of course only if damaged from weather and water.

• United States
8 Aug 16
@Juliaacv
Yep. When this house was built, it was done a bit cheap...most of the decking was still good, but it was almost like a trampoline in parts, so they're just throwing sheets of 5/8 plywood over it to firm it up before they lay the tarpaper.

• Centralia, Missouri
8 Aug 16
i do love the old style lights like those, looks like a really nice set up!

• Centralia, Missouri
9 Aug 16
@JolietJake
I have no doubt. I used to do the lights for stuff in HS, the stuff at the HS library I had to set up myself....and to run them you had to wear long sleeved shirts and heavy gloves as moving them and turning them off, or refocusing them required...a hands on approach


• United States
8 Aug 16
I have had a severe leak in the living room, every time it rains a solid stream of water comes through the ceiling...not just drops.

• India
8 Aug 16
@JolietJake
natural shower u must have had for last monsoon


• United States
8 Aug 16
The good thing is it's being fixed and you won't have to worry about any more rivers flowing inside! With all those electronics you must have, that would be bad to have them be ruined (and you gettin' electricuted!)

!


• United States
8 Aug 16
When we bought this house that was the only thing the insurance wanted inspected as we bought the place "as is". They said our roof was in great shape. Within a few months the wind managed to blow a section of shingles off, but the local handy man fixed it for $135. I never got the leaks to stay stopped on my previous house. Local handyman says he could put a metal roof on here for about $5000. He put one on his house and his rental because he said roughly a quarter of the roof would blow off every year and he got tired of it. I am looking for a job to pay for those kinds of things. Poor Scar.