Family Outing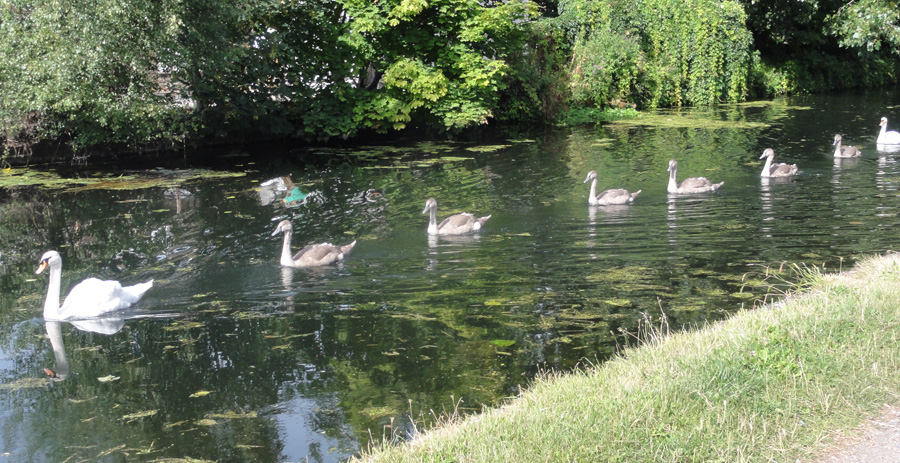 London, England
August 8, 2016 10:14am CST
A little while back I saw swan parents with their brood of six, little, cygnets. As I didn't note this fact in my journal I have no idea how long ago it was. I don't think I've seen that many youngsters, in one family, before. I feel fairly certain that not all that many swan pairs have six youngsters to look after, so when I saw this family out for a promenade, I felt sure it was the same group. Still not fully grown, but getting there, I think they will all shortly be off on their own and the swans along the Grand Union will continue to thrive.
9 responses

• United States
9 Aug 16
Whenever I have a chance to visit our local park, I love watching the duck families and swan families. I could sit and watch them for hours!

• United States
10 Aug 16
@Ronrybs
I've actually never seen enough dragonflies to be able to watch them for long. And hummingbirds. I've only ever seen one hummingbird in my whole life! If we had more around here, I'd definitely sit and watch them!


• United States
8 Aug 16
Those are some cute swans. I think they are such beautiful birds. At the camp grounds we stay at at the beach in July they have two swans that swim in their ponds and they are friendly. They will come up really close to humans when they are swimming.

• Chennai, India
8 Aug 16
Some people say that swans live only with one partner for the entire life. Not sure.

• Los Angeles, California
8 Aug 16
Great shot. I like how they formed in a perfect line with an adult leading and the other riding trail.

• Paradise, California
8 Aug 16
Awesome picture! We get quail families out back of our house sometimes. Once one of the families went out to the front yard. The daddy was sitting on top of our wishing well planter and looking down on the rest of his family. Somewhere there's a picture of it that my father took. The swans are so beautiful, so graceful!


• United Kingdom
9 Aug 16
A different take on 'ducks all in a row'

. Actually
@sueznewz2
posted about a family of swans the other day, and there were six cygnets there too.

• Colorado Springs, Colorado
8 Aug 16
Oh wow, that's a cool photo!

• United States
8 Aug 16
That surely is a very lovely shot my friend. They look so orderly and peaceful.