E for Eggy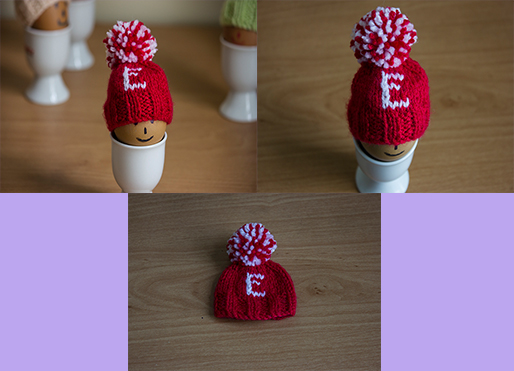 August 9, 2016 9:38am CST
E for Eggy While I was watching the Olympics, Eggy said he thought it would be a good idea do if I made so more personalised egg cosies, so now Eggy does have his own personalised hat with a big letter "E". Monogram is the term for it, I've done it before with Mug cosies and seemed to work well. Now I'm sure every other Egg in Eggmouth will be wanting their own personalised hat/egg cosies, I could well be busy!! I will be doing more in different colours.
10 responses



•
9 Aug 16
Thank you, I will be making more in different colours

• United States
9 Aug 16
Very cute! Personalized gifts are trendy right now!

• United States
10 Aug 16
@kevin1877uk
Just curious are egg copies used for decoration, or really used? :) I read online it's very common and popular in Europe?

•
10 Aug 16
@infatuatedbby
I guess egg cosies/hats are both usefully and decorative, they are most usefully for keeping you boiled eggs warm, every egg like to have a hat just as much as we do. They are very common over there too, most of my orders will go to the US although I've had orders in the UK, France, and Germany for them too.



•
11 Aug 16
Thank you, I am lol I have a good reach of different ones now :)

• Palisade, Colorado
11 Aug 16

•
11 Aug 16
@velvet53
Not knitting now, was about 3 hours ago lol, on one of my posts there is a video of me knitting.


• Philippines
10 Aug 16
I suddenly remember the first time I met Eggy.


• Pittsburgh, Pennsylvania
11 Aug 16

•
10 Aug 16
They are so beautiful. I hope to see blue ones.

•
10 Aug 16
Thank you, you will do, light blue, dark blue?

• United Kingdom
9 Aug 16
Oh I like these! My friend made me Ferrero Rocher kitted hats for charity. Sold about 100 of them. Not that I'm giving you ideas or anything...

•
10 Aug 16
Awesome, well done to you friend, I've sold a good amount of those egg cosies.

• Centralia, Missouri
9 Aug 16
ok now that is darn adorable

• United States
9 Aug 16
How adorable is that hat!!!! Yes, every egg will want a personalized one!!!