Interesting Stuff 1.3 • Extreme Hobbies - Zorbing!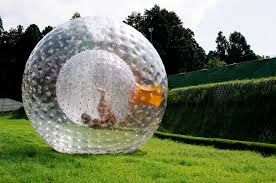 Singapore, Singapore
August 10, 2016 7:19am CST
Treat yourself like a rag doll! Place yourself in a gigantic plastic bubble and just roll off a hill! Let your body tumble freely inside as you roll, and try not to get injured! This is a real hobby that people have, and is more common is places with smooth, grassy hills. It seems a little dangerous to me, and landing inside the bubble at an odd angle could even mean a fracture! However, I still wouldn't mind trying this. What about you?
2 responses

• New Delhi, India
10 Aug 16
Zorbing is famous in hilly area of India, kullu, Himachal pradesh

• New Delhi, India
10 Aug 16
@Joel7050
don't know the exact figure but it's very famous

• Singapore, Singapore
10 Aug 16


• United States
10 Aug 16
I have not seen this. I have seen people in bubbles in a large water tank, which seems less likely to injure you.