Do you knock before entering anywhere???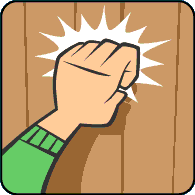 Ahmednagar, India
August 11, 2016 6:01am CST
Knock, knock, who's there? It's me, Raj! What do you want? Let me in, let me in! :P I typically have my room door closed when I am in the room. I don't like being disturbed and being the very private me, I don't fancy people looking at me when I am doing stuffs. I don't lock it however - not unless I really want to keep people out. From time to time, people will just open my door and walk into my room to come talk to me. I find that quite irritating half the time. I rank this higher than phone calls on my list of annoying things. It's like, if you compare emails and calls, emails are preferable since you can choose to respond to them at your own time. Phone calls are more difficult. You either pick the call up or continue to let it ring non-stop. Opening my door, walking right in, and demanding my attention is the worst of the lot. I am not even given a chance to say no (though I have shooed people off in the past when I really wanted to concentrate). But the worst part is that they don't knock. I simply hate it. They don't knock! I feel it is basic courtesy to knock. If I don't need you to knock, I would have left my door wide open. Knocking alerts you to my attention. At least I am mentally prepared that there is someone at the door wanting my attention. A simple knock that takes a mere second, yet one that can mean a whole world of difference... what's so difficult? So what do you think? Do you knock before entering someone's room? Or do you simply barge in as if you have the right? Do you hate it when people do not knock before entering your room? Or are you a visitor magnet who welcomes every human, elf or troll (lol, I just can't resist!!)? Do share your thoughts. ;-)
9 responses

• Canada
11 Aug 16
I agree with you. I would never just open a closed door, I would knock and wait to be asked in ...

• Ahmednagar, India
11 Aug 16
Good habit,i like this types of people..

• New Delhi, India
11 Aug 16
Only at important places I knocked

• Ahmednagar, India
11 Aug 16
Well, guess you have everything under control!

• New Delhi, India
11 Aug 16
@Raj7779
sometimes I do landed in an uncomfortable situation


• Ahmednagar, India
11 Aug 16
I just hate it when people just invade my private space without warning.

• Israel
11 Aug 16
I always knocks on the door and asking to enter. and I hate to people enter without asking if can get into. I usually lock my room, that likes my privacy. If it's not in my room it's a different story..


• Ahmednagar, India
11 Aug 16
Well, even if you are not doing anything *tsk* *tsk* in the room, I still think it is polite for people to knock when wanting to come into a closed room. :P

• Philippines
11 Aug 16
Knocking for me is coutesy not unless it's an emergency and in case of an emergency, the knock gets louder or you simply just barge in

• Ahmednagar, India
11 Aug 16
We probably should launch some courses teaching people how to knock. Maybe this is our ticket to our first million!

•
12 Aug 16
The proper thing to do is to knock first, be it an open or closed door.

• United States
11 Aug 16
I knock on most doors but I don't if I am in my house or if I am going into my best friend's house. If I go to her house I just open the back door and walk in. The 5 dogs they have inside all know me and don't even bark any more.

• Italy
11 Aug 16
If that's a private room such as a bedroom or an office, I'm likely to knock. Otherwise I just enter. Bathroom included. I don't like when people enter without asking, but I don't even like to answer when someone knocks.