Here's What To Do With "About To Go Bad" Mayonnaise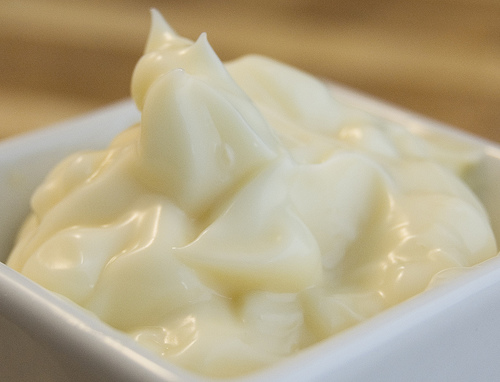 Kolkata, India
August 12, 2016 2:27am CST
We have all seen a jar of mayonnaise just lying in the fridge but feel too lazy to either use it in food or throw it away. But guess what? Now, when you find a jar or old mayonnaise, you don't need to throw it out. You can use it still. Obviously not to eat but for other activities. Hair conditioning- Yes you heard me. Mayonnaise is often used as hair conditioner. It makes the hair shiny and soft because of the egg content. To treat burns- If you have burnt yourself in any way, mayonnaise will actually help in cooling the affected area and preventing any marks. Cleaning crayon marks off walls- Something every parent wishes they could find a solution for and here it is. Mayonnaise! Just wipe the crayon marks off with a spot of mayonnaise on a cloth and presto, clean walls.
5 responses

• Kolkata, India
12 Aug 16
Same here. I did not know mayo could be used for such purposes.

• Philippines
12 Aug 16
wow, lots of uses of mayonnaise aside from good fillings

• Kolkata, India
12 Aug 16
Yes thats right. Even I wasnt aware of these uses.

• Philippines
12 Aug 16
@cxndie
not until now when I read your discussion

•
13 Aug 16
Those are wonderful uses! Thanks for sharing them here.

• Kolkata, India
16 Aug 16
No problem. You are very welcome.

• India
12 Aug 16
those are good tips, didn't know.

• Australia
12 Aug 16
I have never thought of mayo as hair conditioner .. I must try that


• Kolkata, India
12 Aug 16
Yes I was planning to try it this weekend :)