Holding Down the Revenue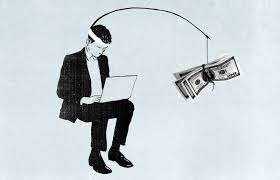 Kingston, Jamaica
August 12, 2016 9:16am CST
We've always been sharing various other writing sites. The Tips and of course, the Tricks. Expertscolumn makes sure it doesn't pay you by stopping your revenue just before payout. For example, if payout is $5.00 you'll make $4:70 and every item you publish after is rejected. If you are a Newbie, you might assume..."Gee, guess I don't write as well as I think..." If you've written professionally, or have been on many publishing sites over the years, you'll chuckle; "Oh, another scam." Many sites will have 'moderation'. Now I don't get how a site can have moderators who need 24+ hours to get around to reading your work; Unless... 1) they have no intention of paying, so want to prolong the gathering of items so that they will have you writing your fingers off, and get around to publishing one hoping you keep going, to make it look as if they have so many users. 2) they want to delay payment so that although they Will Pay it is two months late, meaning they've made their ad money off your work for two or three months then pay you a fraction. 3) they are incompetent, have one lazy mod, who only logs on for about three or four hours a day, so there will always be a back log. Whatever it is, the only person who suffers is the writer.
3 responses

• Paradise, California
12 Aug 16
I don't participate at any article sites anymore. I really miss Associated Content, where I had developed a pretty good source of income. I'd love to find a site similar to that again. I guess a lot of them could be good as long as you can do social bookmarking. I'm not sure if something called Expertscolumn is right for me, am I an expert at anything. . .lol. Which sites do you think are best for article writing these days? I'm not in the know at all about article or blog sites anymore.

• Kingston, Jamaica
12 Aug 16
None. Expertscolumn will moderate your work, and throw out perfectly good items so that you never reach payout. It takes forever. Literacybase is just like it. The slowest moderation known to humanity. In Fact, as August began, the Moderation slowed to the point that if you posted on Thursdayy the three items would NOT reach publication until SATURDAY. This would prevent you from reaching the pay out before the 10th of August. This kind of trick is very often used in shady sites...


• Dhaka, Bangladesh
13 Aug 16
Thanks for the information..