Loving That Yellow Fruit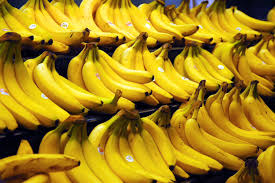 Daytona Beach, Florida
August 12, 2016 1:03pm CST
The yellow fruit I'm referring to is the banana. It has been even sung about and if at all it's possible to believe I discovered ten songs sung about this fruit but the list didn't include one of my favorites a song from 1923 Yes, We Have No Bananas sung by Al Jolson. On with the facts: • Archaeologists have discovered evidence that banana cultivation goes back as far as 8000 B.C. in New Guinea. • Bet you didn't know this because I too thought bananas grew on trees. Well they don't the banana plant is classified as a tree-like perennial herb. Hold on tight when reading this fact – the banana is considered to be a berry. • A bunch of bananas is referred to as a hand; a single banana as a finger. • Nearly all of the bananas you buy in stores come from the Cavendish banana plant, originally native to Southeast Asia. • The song I mentioned "Yes, We Have No Bananas!" sold close to a thousand copies a day. • Another popular "banana song" was the "Banana Boat Song" by Harry Belafonte and was released on his first album Calypso and the album sold more than a million copies. I added here Harry Belafonte "Banana Boat Song". This is a real fun song and there might be those of you who remember that this song was included in the movie starring Michael Keaton "Beetlejuice". Banana fans can find more facts about bananas following this link: http://www.livescience.com/45005-banana-nutrition-facts.html

Harry Belafonte - "Banana Boat (Day O)" - 1956
6 responses


•
13 Aug 16
There are lots of bananas here in the Philippines.

•
16 Oct
Thank you for all that information. I really like bananas. I love them plain or in cereal or in a cream pie.

• Daytona Beach, Florida
16 Oct

• Philippines
12 Aug 16
Very interesting. I didn't know title of the song until I heard it on Youtube. So happy song!

• Paradise, California
12 Aug 16
I love the banana songs, lol. I think the Banana Boat Song has been used in other movies, too, but I can't think which ones right off the bat. I'll have to look it up. I remember playing "yes we have no bananas" from one of our old piano books. As for bananas themselves, for a long time I ate one every day but I'm pretty tired of them now. There is a lot of other fruit that I like better. Apricots and all kinds of berries and canteloupe are what I really like.

• Daytona Beach, Florida
12 Aug 16
@CinnamonGirl
I'll still have a banana now and then but I prefer peaches and melons.