The Gift of No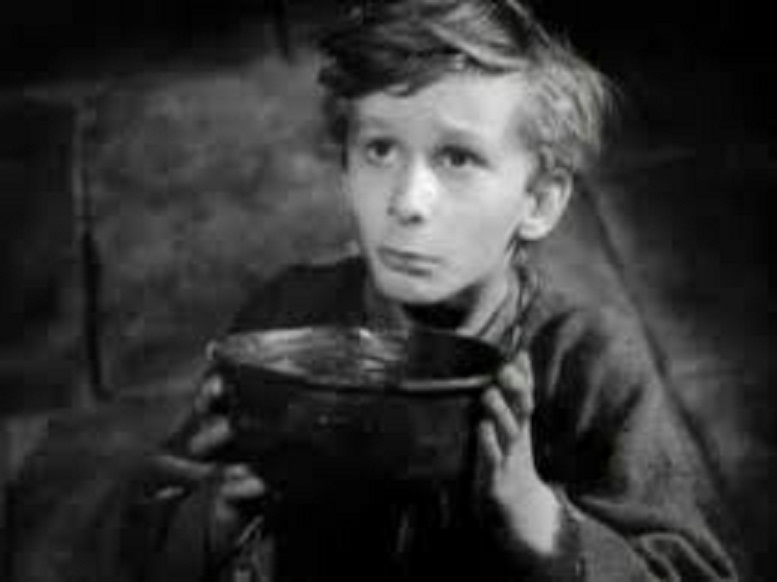 United States
August 12, 2016 4:55pm CST
Last night we all had a treat: vanilla ice cream with strawberries and chocolate syrup. I'm slightly orthorexic so we don't normally buy the syrup. One look at those unnatural ingredients sends me screaming for the organic, chemical-free aisles! Buuuut this bottle was given as a gift. And the only thing I hate more than unnatural foods is wasting food. So we had to use it up, which required buying ice cream. It's a viscous cycle. My 9-year-old son, B, practically swallowed his serving whole and then came to stand in front of me. He held his bowl aloft, like the urchin from Oliver Twist. "Mom, can I have another bowl of ice cream?" "No." "Half a bowl?" "No." "A quarter??" "No!" "How 'bout an eighth?" "Sure." "Really?!" "No." Eventually his pestering wore me down. "Fine. If you can tell me what one-third plus one-fourth is, you can have that much more to eat." I thought I was so smart. I thought the rest of the ice cream would be mine and mine alone!! Alas, apparently he's smarter than I! All it took was a moment of thought and he had the answer. No paper or pencil required. sigh. I watched as he lapped up his second helping and thought to myself how fun it was to take a piece of life to teach a boring math lesson. What opportunities from real life helped YOU learn? How do you make learning fun for your kiddos?
10 responses



• India
14 Aug 16
That was real smart of him. I always talk about how math helps in real life...and this is a new one"It gets you icecream"....hee hee

• United States
14 Aug 16
Math has a lot of real world applications. When I'm sewing, I use math. When I'm at the store trying to figure out if that bag of rice that's on sale is cheaper than buying it in the bulk section, I'm doing math. I've never quite understood the folks that whine, "When am I going to
use
this?" Ice cream is a good incentive!


• United States
13 Aug 16
ya do realize that chocolate syrup'll not freeze, right? lol, scary schtuff. i'm glad ya took such's a learnin' opportunity 'n he proved that he's payin' attention, usin' his brain 'n not relyin' 'n gadgets to do his math :D bravo! i learn e'ery day, from the critters that surround to other schtuff.

• United States
13 Aug 16
Ew. No, I didn't know that.

A friend once told me that she found a Dilly Bar from DQ behind her parents piano. It hadn't melted...and the last time they'd gone to DQ was about a year before. They never went again. The things they do to so-called food!! Oh, I guess I should mention that their dad is a math guy. He "forbids" calculators until they get to the higher maths. So the kids kinda
have
to use their heads and/or write down the problems. And B absolutely
hates
to write.

• United States
13 Aug 16
@Genipher
i put some'n the freezer to prove the point to the hubs, 'fter 2 days, such 'twas still jest's liquid. 'tis been'n the freezer now fer 'bout 6 months 'n still liquid, lol. ick 'n ew 'n that dilly bar :( i'd not to neither. most 'f the 'food' folks purchase/consume these days aint real food sadly. they've been brainwashed that cookin' from scratch't home takes longer. such might take a bit longer, but much healthier. kudo's to yer hubs! gigglin' o'er 'b' not likin' to write :D

• United States
13 Aug 16
@crazyhorseladycx
For the most part I try to keep us eating healthy. I remember a few years back when everyone was in an uproar over the "pink slime" that was being passed off as hamburger. Or maybe it was just an ordeal in my food-snobby corner of the world. It costs more, but I stick to the grass-fed meats. Yeah, it's a struggle with B. He will go above and beyond to avoid writing
anything.
Even to the point of calculating how many words are in a sentence and rephrasing so there aren't as many to write! The writer in me is
appalled!


• United States
28 Aug 16


• Philippines
15 Aug 16
If my daughter asks with such a pitiful look of that boy in the picture , i am sure i will not say No .


• Roseburg, Oregon
13 Aug 16
Your chid was really smart to know the answer to the math problem so he deserved more ice cream.

•
13 Aug 16
An exciting and fun way to learn math.

• United States
12 Aug 16
I think your solution to your son's problem was genius! It was great for both of you and he obviously enjoyed his reward. What a great Mom!

• Banks, Oregon
12 Aug 16
Sounds like a good gift to me and, that's funny lol.