Self dependency, be your OWN BOSS in life.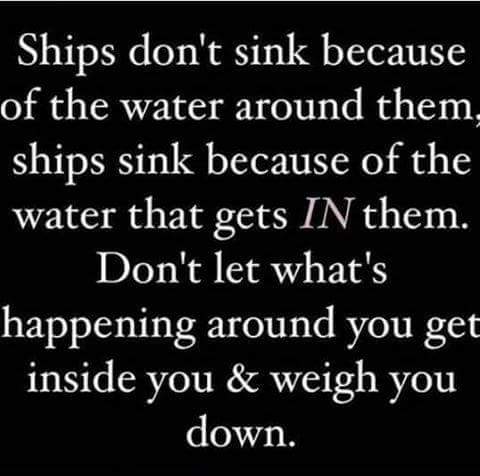 Greencastle, Indiana
August 14, 2016 7:04pm CST
I couldn't help but to put this video on here cause it says JUST what needs to be said, we rely too much on other people in our lives that we don't know how much our lives are really worth & matter any more. We should be self dependent learn new things every chance we get become MORE about our self worth :>} learn how to be more reliable on ourselves than others this way you won't be as hurt when others aren't there. Self dependency is one of the HARDEST things in life to learn, if you never give yourself the chance to learn in life your cutting yourself short to become dependent. I am self dependent on MOST the things I do in my life I don't rely on other people to do what I need done (IF) I can help it, if there's something I need done I do it :} Please take the time to really learn to be independent of yourself & not on others to make you happy in life that will be the BEST thing you could EVER do in life. Listen to what Joel Osteen says about this & you'll learn one of the BEST things you could ever learn in your life & what he says about this you will agree.

Are you relying on what others say or don't say for your value? Are you frustrated today because you don't have the support from others around you? One of th...
8 responses

• Shreveport, Louisiana
15 Aug 16
Oh I am very independent and try not to relay on other people. It drives my husband crazy ;)

• Greencastle, Indiana
15 Aug 16
@marie42
ha ha ha it does mine to & makes our men feel like their not needed so I have to let mine do things I rather do myself BUT they need to feel needed & wanted.

• Shreveport, Louisiana
15 Aug 16
@sugartoes
yes I do the same. Aww.. What we want do for our men lol

• Greencastle, Indiana
15 Aug 16
@marie42
yeah I hear ya we just as bad as they are just in different ways



• Greencastle, Indiana
18 Aug 16
@velvet53
that's only normal for MOST folks but to just be demanding on having others do what we can do but rather rely on someone else instead is what gets my goat.

• Palisade, Colorado
19 Aug 16
@sugartoes
My sons have learned that I can do most things on my own. They are always offering to help me but I tell them that I can do it myself.

• Greencastle, Indiana
19 Aug 16
@velvet53
ha ha ha well that's not a bad thing, my husband is the same way that's why when I want to do something I have to wait till I catch him inside & or away from the house where he's not under me telling me what or how to do it or just take OVER what I'm doing like I don't know what I'm doing



• Ireland
15 Aug 16
I am pretty much self-sufficient.. I am happy

• Greencastle, Indiana
15 Aug 16
@Drosophila
hello there, that's awesome, I wish more people were, there's some that can't think on their own without someone doing what they should be doing. I'm not talking about the ones that has mind problems, I'm talking about normal no handicap people.

• Ireland
15 Aug 16
@sugartoes
ya for people that has to rely on others it's unfortunate.

• Greencastle, Indiana
15 Aug 16
@Drosophila
yes it is but those that don't have to rely on others just rather do as less as they can & blame everyone for their mishaps.


• Roseburg, Oregon
15 Aug 16
It is good to just be alone sometimes and do things on your own. But it is also good to be around other people.

• Greencastle, Indiana
15 Aug 16
@jstory07
ha ha ha I think you replied on the wrong topic you might want to re read what topic you were on for this one this is about being dependent & relying on other people.

• , New York
20 Aug 16
That is very true , you sometimes need the company of others especially when you are felling stressed.

• Greencastle, Indiana
20 Aug 16
@chooseyourmissy1234
I'm one that rather deal with stress on my own cause I know others can't help me like GOD can he's all I need in my life.

• Rajkot, India
18 Aug 16
sometimes, its like i know what all i should do and what i need to do. but i m just unable to put it in practice. firstly, i shldnt have entered only. once i did, i should have been practical enough not to let myself in with his thoughts and beliefs. now m sinking with all that. i have weighed down my ownself. i want to get out out. but again d feeling is holding me back. a fear of being alone. a dependency.

• Greencastle, Indiana
18 Aug 16
@kinzzz
you need to get tuned into your SELF on rather or not being in a bad relationship is worth the pain & suffering OR to be on your own to where you CAN find a better partner for yourself.

Moving forward after a breakup can be difficult, especially after a long-term relationship. Self-Realization Coach, Bonnie Moehle shares with us ways to let ...

• Greencastle, Indiana
18 Aug 16
@kinzzz
maybe if you take time to just look at this topic I wrote & focus on the comments that others have wrote about this one maybe you can find some connection with someone here.

Yes that is the question I'm asking today what would you do if you found out your better 1/2 was cheating on you & you'd been married like 10-15 yrs & you JUST...

• Perth, Australia
25 Oct 16
@sugartoes
I agree that it would benefit us all to learn to be independent. It's better to know certain things rather than being thrown in the deep end not knowing what to do.

• Greencastle, Indiana
26 Oct 16
@VivaLaDani13

that is SO TRUE.

• Corsham, England
17 Aug 16
Yes we should be self dependent but it doesn't hurt to lean on others in times of need.

• Greencastle, Indiana
21 Aug 16
@sprite1950
I just Seen your comment on here cause I didn't get the notification but your right on BOTH parts, it don't hurt to lean when in need on someone BUT don't get TOTALLY dependent on that person unless it's with God ONLY cause HE'S the one that can guide us in life not people from the earth

• Hyderabad, India
15 Aug 16

• Greencastle, Indiana
15 Aug 16