Next craft project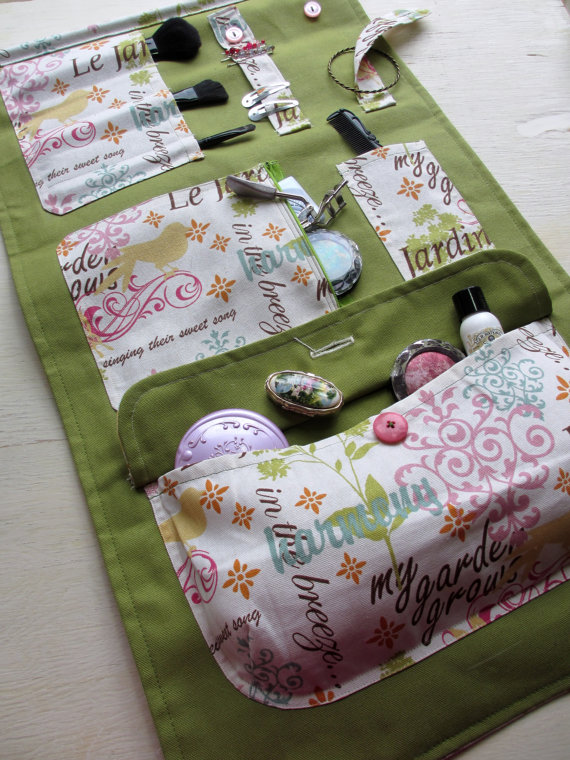 India
August 16, 2016 2:03am CST
my next craft project is to create a makeup organiser for travelling....for this I will require some fabrics...right now i am doing research on what type of makeup organiser I should make....I have seen brush folders but it is not for me as I DON'T use that much brushes but I will add similar section as well...and I want to add space for other things as well...so help me out in providing some valuable information or suggestion to my new craft project....
6 responses


• India
16 Aug 16
I am going to create similar piece of work but it is not created by me...it is just an example ....do you like it....should I create similar piece or any changes i should make to this thing

• Kiryat Ata, Israel
21 Aug 16
Maybe you can use some scotch to make it easier to close and open the pockets. I suggest for you to just use a pouch and stuff it with the makeup materials or, if you make the makeup organizer, stitch it to the inner wall of the suitcase. The best thing you can do is to see how many things you really need to take with you for the makeup. Brushed, lipstick, powders...baby oil and cotton. So, you can figure out what pockets to make and how to make them all together in the most comfortable way. It needs to be easy to take out the things that you want, and easy to put them back inside. Maybe you will want to hang in inside of the closet so you can add a simple strap to hang the whole thing on a hook...

• India
22 Aug 16
wow...thanks for the amazing information.....in the first line you are saying about zipper right....good idea...but for that, I have to go market and shop for them...this is what i DON'T want to do....I want to make it from only home available items only and will invest nothing

• Kiryat Ata, Israel
22 Aug 16
@hema7213
I meant to velcro tape when I wrote `scotch`. a Velcro tape will be easy to install and very cheap, maybe you can take it from other cloths you already got. In the worst case, you can make buttons to the pockets.

• India
23 Aug 16
@stringer321
I never heard of velcro tape....and for buttons we can use as it is also shown in the image as well....I am thinking to create a 3 fold wallet in which one area will cover the eye shadows, foundation and compact, middle section will contain brushes and eye liners and lipsticks and nail polish as well and 3rd section will contain the hair accessories, comb and rubber bands safety pins....what you say...I didn't started working on it but just created a rough picture in my mind



• Philippines
16 Aug 16
doing handicrafts is really fun and a money saver

• India
16 Aug 16
yes, I also find it cheap now...as I use only household items to create any craft item

• India
16 Aug 16
Keep many pockets in it. Stitch small pouches to carry pins and bands to put in make up kit.

• India
16 Aug 16
I think there is no need to create pouch for safety pins or rubber bands as safety pin can easily be stored by pining them on this make up organiser and along with safety pins we can add rubberbands as well... what you say....