It has been a long time no "SEE"!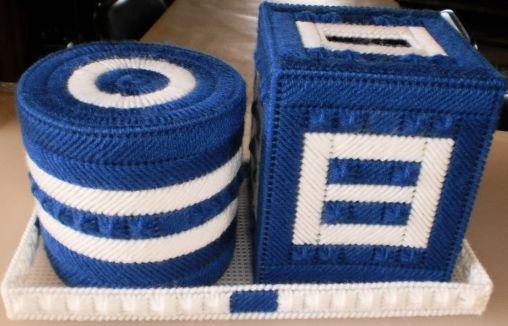 United States
August 16, 2016 10:50am CST
OMG it has been ages since I been here last, almost a month to be exact. How has everyone been in the meantime? I have been keeping myself busy with other things, like doing my plastic canvas needlework. Some of you from Bubbs will remember me doing them a few years ago. I been getting orders for the bathroom sets, the kleenex boxes and the coaster sets. I also still go to the Gym with my daughter every two days and am happy to tell you that I have lost 9 pounds so far. I also walk 15 minutes on the treadmill now. The greatest achievement for me though is that I celebrated my first year anniversary of being a non-smoker on 8/1 this year. I am so proud of myself and also of my daughter #3 who will celebrate her first year on 9/1. Well best get off here and get ready to go to the gym and store. I will read some until daughter gets here. I hope y'all have a wonderful day! Photo is mine of a Bathroom Set I made for a customer
9 responses


• El Paso, Texas
11 Jul
I am simply looking up old discussions then answering old responses for the fun of it.

• El Paso, Texas
12 Jul
She does that sometimes
@LadyDuck
when I met her on Gather she wasn't always posting then after a few months she would write again. I think she might be busy with family right now, at least I hope so.


• United Kingdom
4 Aug 17
That looks very nice. I love the colour and it looks so neat and tidy! Well done to you for quitting smoking.

• El Paso, Texas
11 Jul
How surprising that so many old responses were never answered. I'm having fun doing that.

• United States
17 Aug 16
Congratulations, that is a big milestone. I have not smoked since August of 1993 so 23 years and I am so glad I did, I am healthier than ever.

• El Paso, Texas
11 Jul
I am having so much fun checking out ancient discussions then answering old responses. I'm just silly that way.

• United States
17 Aug 16
You do beautiful work! Do you have a website where you sell them? I might be in the market for a set!

• El Paso, Texas
11 Jul
Wow, I haven't seen you around in a long time, I hope you are still active here. I'm going through old discussions then answering old responses. Just for fun ya know.




•
17 Aug 16
I'm so proud of you for having kicked that habit a year ago. Keep it up! That's a great achievement!


•
16 Jul
Those are so nice. You really are talented. My mom loves crafts too. And since I moved in here to our new home. I am starting to like DIY as well.