Just like my Dad!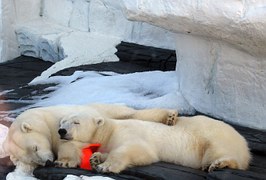 Canada
August 17, 2016 1:35pm CST
When I was young my mom was often saying.'' Boy I sure wish I could sleep like him, just sleeping when I am tired.''. My dad just had to read the news- paper, and he was falling asleep on it. It was easy to do, after work he was, tired. Well I am just like that now, at 55 years old, and when I am tired I do just that, I don't snore like . Unless I am very stress and tired it makes a weird combination, it can make me snore but not for long. It wakes me up when I do. Pixabay photo. What a weird subject, who cares.
7 responses


• Paradise, California
17 Aug 16
My dad, too. He did do physically demanding work when I was growing up, though. He was a logger, and then he was a field engineer. Field engineer means he travelled all over putting up communications towers for Stanford Research Institute And that was him -- sleeping behind the newspaper the whole time I was growing up, lol. I don't fall asleep that easy, but I don't do much hard work these days. I find it hard to take naps, although I have no trouble going to sleep at night. That may change, who knows?

• United States
17 Aug 16
My husband can fall asleep anywhere too. I have to ask my husband if he has ever been awakened by his snore. Probably.


• Garden Grove, California
25 Aug 16
I have an awful time staying asleep

• Green Bay, Wisconsin
17 Aug 16
It's nice you're like your father and can fall asleep easily. Sometimes I can, but I need to go to bed late in order to fall right to sleep. Love the pic you found.

• Midland, Michigan
17 Aug 16
What's a weird subject? Sleeping? It's something we all do eventually, I'd think. I've never heard of stress making a person snore. I've been told I snore, but I don't think I do as much as my husband does. I used to talk in my sleep and even do a bit of sleepwalking on occasion, but I've worked those out of my system as I've gotten older, I think.