Mental Illness: Up Close and Personal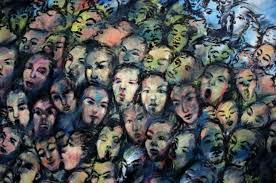 Saco, Maine
August 17, 2016 3:43pm CST
When I moved in here last November, I was assured by the management that both neighbors on either side of me were very quiet people, and that I would have no problems. Well, it didn't take long for that statement to be proven wrong when I realized that the woman who lives in the next apartment is mentally ill. I started to get suspicious when I heard her talking very loudly at different times of the day. At first, I thought she was talking on the phone to someone. But as time went by, I realized that wasn't the case at all and that she was talking either to herself or some some imaginary person. Her "conversations" were pretty benign back then, but they soon took a turn for the worst, and some of her statements became quite vulgar. While I won't repeat what she said, suffice it to say that I quickly got tired of listening to these profanities for hours at a time. Only one wall separates her living room from mine, so that whenever I sit on my sofa, I can hear her loud and clear. One of the problems is that the walls between these units are too thin, and I've mentioned that several times in my many discussions with management during their ongoing handling of this problem. Their last intervention with her was, I believe, their final attempt to set up some sort of program for her that includes a psychiatrist and a support system comprised mainly of her elderly parents, who live just two streets down from here. I've heard her verbally abusing them right outside my door, so my heart goes out to those two people, both of whom are in their 80's. At first, I tried very hard to be compassionate and understanding of this woman's illness. But unlike some mentally ill people, she has a mean streak that becomes quite evident during her episodes. While she has never spoken to me much since I've been here, now she doesn't at all, as she knows that I'm the one who's been reporting her tirades. On the one hand, I appreciate that she keeps her distance from me; but the other side of that is that it is very unpleasant to live just a few feet away from someone that ill and with whom I can't have a friendly and neighborly relationship. Two weeks ago, I finally threatened management with taking things into my own hands, which would bring a lot of grief down both on this woman and on them. I think that's when they decided they'd best get serious with her, or I would either follow through on that or move out, which I really don't want to do. But after nearly 9 months of putting up with this, and after having been patient this long, it is time to put my own needs and peace of mind first. I pay rent here, too, and I am a very quiet tenant, and I think I deserve that in return. (Public Domain Image)
9 responses

• Bunbury, Australia
18 Aug 16
I think you've been very patient but as you say you have rights as well. There seems to be more and more mental illness these days.

• Saco, Maine
18 Aug 16
Yes, and one really must wonder why that might be.

• Bunbury, Australia
18 Aug 16
@Raelove
I have to admit I sometimes wonder if some of it is 'fashionable' almost. And I think because it is now slightly less stigma about mental illness, people are quicker to seek help whereas once maybe more just blundered on as best they could.

• Saco, Maine
18 Aug 16
@JudyEv
I know that I've had some pretty low points in my own life that someone somewhere would probably attach a fancy name to. I'm one of those just "blundered on." The couple of times that I did seek out help (sans medication), I came out of it realizing that all those people had done was to steer me in the right direction. I tend to agree with you on the "fashionable." Somehow, those of us who do NOT have some sort of "condition" are more and more the oddballs.


• United States
18 Aug 16
'tis most sad that these folks've to suffer so. i can't imagine the torment. i'm sure her folks do what they can :( i hope that a solution comes that benefits both yerself 'n that lady.

• Saco, Maine
18 Aug 16
I've witnessed how she treats her elderly parents. (She is 60 herself.) I feel for THEM mostly for having the burden of caring for her placed on them at their ages.

• United States
18 Aug 16
@Raelove
no doubt she's suffered such most 'f her life. one cannot jest toss 'em out, can they? i feel fer 'em 's well... sadly, one cannot force folks with these disorders 'nto long term treatment. such jest doesn't work.

• Saco, Maine
18 Aug 16


• Saco, Maine
18 Aug 16
I doubt this is Alzheimer's, as she goes into intense rages at the drop of a hat, and her voice goes from female to male while she rants. She's schizophrenic for one thing, and has severe OCD and anxiety disorders. She was locked out of her apartment one time. She kept trying to open her door, and when it wouldn't open, she turned around and started slapping herself in the face out of frustration. I feel for her, but I cannot help her. And where she lives so close to me, it's unnerving to wonder if she will ever lash out at me.

• United States
17 Aug 16
This is a very difficult situation and I can sympathize with your desire to just have a normal neighbor. I hope that they are able to resolve this soon.

• United States
17 Aug 16
I do not have an answer to this.Something you have to work it out

• Saco, Maine
17 Aug 16
I think all that can be done is being done, Fredo. It's not up to me to work it out but up to management. And I am going to see to it that they do.

• United States
17 Aug 16
I suppose this woman is not getting the necessary psychiatric help she needs. I am glad you spoke up since no one should have to put up with disturbing language and behavior from resident in the same building. I do hope that this problem is solved, and the problem affects you negatively and that is inappropriate and unfair.

• Saco, Maine
17 Aug 16
I think it is unfair, too, as I'm one of those who keeps to herself. I don't know the particulars of her case, as they are not at liberty to discuss them, of course. But I do know that some type of psychiatric help is part of this final solution. She has been a lot more quiet of late, so maybe she finally got the message.


• Saco, Maine
17 Aug 16
Oh, believe me, Maluse, I have gone round and round in my mind, heart and conscience with this. In the end, you are right: I am not responsible for her. While I can be sad for someone who has to live with that kind of demon, there certainly isn't anything I can do to help her. I am not trained in that field, and to be honest, aside from her illness, I find her to be quite disarming. The first time I set eyes on her, I knew instantly that something wasn't right there. And I wasn't wrong. Thanks for understanding.

• Canada
17 Aug 16
It must be hard to deal with on a daily basis. You are right. You pay your rent and you are entitled to being treated fairly by management. They know that she has problems and they need to deal with it. First off they should have been up front with you when you asked about the neighbors before you even moved in. I am guessing that is why the previous tenants had moved out. I am sure that you are not the first one to complain about what is going on. I realize that she is sick but she needs to be put on the right medication so that she isn't bothering other tenants.

• Saco, Maine
17 Aug 16
Truthfully, I almost didn't take this apartment, as the woman who lived here before me was also mentally ill and went to prison for life after killing a woman in a local grocery store. But practically speaking, I have had no problems living here, as that knowledge did not deter me. And when I think about it, how could management know about the neighbor's illness if it was never reported before I took it upon myself to do that? I agree, though. They do owe it to me, as a good and involved tenant, to correct this problem. They know now that I won't put up with it much longer, as I have laid that right on the line with them.


• Saco, Maine
31 Aug 16
It can't always be avoided. Some people become mentally ill through no fault of their own, which is what is so sad about it.