Man at the Helm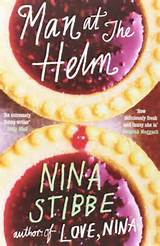 United Kingdom
August 21, 2016 3:16am CST
This story takes place in the early 1970s when a newly divorced young mother moves her family to a village in the English countryside. They find that the locals are far from friendly. Despite the depressing sounding subject of the book, I did enjoy reading it and in many places it made me laugh out loud. Man at the Helm was written by Nina Stibbe in 2014
7 responses

• India
21 Aug 16
@millie02
whether the family is poor or posh, that doesnt matter in a Social genre...if it focuses on some social issues, then it can be classified into that genre, hence I asked...but then u also mentioned that the book made u laugh...so was wondering if its Comedy genre!!


• Canada
21 Aug 16
I like a book that can make me laugh. Don't think I have time or inclination at this point to chase this one down.


• Pittsburgh, Pennsylvania
21 Aug 16
@milli02
oh good another book review! you are so good at them!

• Philippines
21 Aug 16
Another book with worthy story you read.

• Malaysia
21 Aug 16
Glad to hear you enjoyed the book! I barely could find the time to read lately. I really should!

• Singapore
21 Aug 16
@millie02
Is it a true story or work of fiction?