The house on the beach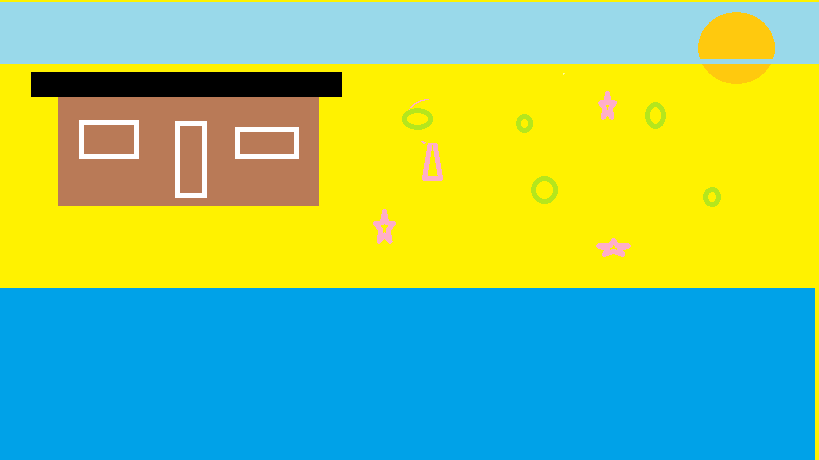 United Kingdom
August 23, 2016 3:57am CST
I often use my own artwork at the top of my discussions and I know that some are not really relevant to what I am writing about. I often get asked what the pictures are about , so I would like to explain some of them. The picture at the top of this post is supposed to be of a house on a beach. I designed it in a sort of abstract way on purpose.( not really, I did not know what I was doing and it came out like that by accident) But, hey, all artists have to start somewhere. What tittle would you give this picture?
6 responses

• Ireland
23 Aug 16
@Millie02
I do like the way the house looks like a face whose eyes are different sizes. It reminds me the beach is not just for those possessed of a body beautiful. I used to live in a cottage on the beach.

• Ireland
23 Aug 16
@millie02
Since it was an Irish beach winters were somewhat difficult and i got flooded a few times at high tide! Also lived on a beach in India for a while but it has snakes.


• Boise, Idaho
24 Aug 16
I would call it "My Cottage on the Beach'.

• Boise, Idaho
24 Aug 16
@millie02
.......Yeah, quite a unique title don't you think? LOL

• United States
24 Aug 16

• India
23 Aug 16
@millie02
You want to know what title I would like for this picture? The house on the beach,




• Italy
23 Aug 16
It looks like a house by the seaside, or by a river. With starfish and clams on the sand, perhaps.

As it was taken by the sea's point of view, so maybe a castaway's point of view: LAND!