Cleaning Out the Cobwebs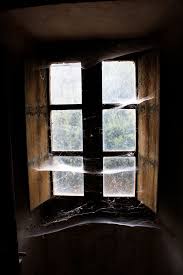 Saco, Maine
August 23, 2016 8:19am CST
These apartments are all single-floor with four units to a building. The five buildings sit in a loose arch against solid woods, so all of our back bedroom and living room windows open up onto a solid mass of trees. A couple of the buildings have more space between the backs of the buildings and the woods, while others, like mine, are just a few feet away. I'm close enough to the trees that some of their lower-hanging branches touch the top of my crank-out bedroom window. That window serves a double purpose: allowing light into the room and providing a rear exit in case of fire. It's very wide and low, and the screen is inside and easily removable. Because it's so close to the woods, the outside sill and the channel the window closes onto is always full of debris in the form of leaves, pine needles, and cobwebs. After it rains, all that stuff turns wet and moldy, and I hate looking at it each time I open that window. It's a gorgeous day out today, sunny, cooler, and much less humid. So I went out with some window cleaner and a whisk broom just now to tackle that mess. A big black gob of bird droppings had dried on the outside of the glass, so I went at that, and then swept all the debris from the sill and around the window hinge. Now it looks great! Most of the other residents here don't bother with those tasks, but I am very obsessive-compulsive about things like that, so it bothers me until I do something about it. Having been a homeowner twice in my life, I have never gotten out of the "maintenance mode," and I still do things to try to keep my environment clean and in good working order without calling maintenance for every little thing. Now that the weather has cooled and we're almost into September, I also took the air conditioner out of the living room window and put it away for another year. The window is one of a pair side by side, and it is very small, so the a/c blocked my view of the woods and made that corner dark. So now I've opened that up, and that corner is nice and bright again. I love the feeling of accomplishment that comes from getting a task done. And even if I don't own this place, I feel that by taking care of it my way gives me more of a feeling that it is my space, and one I can be proud of. (Public Domain Image)
5 responses

• Bunbury, Australia
23 Aug 16
You are a great tenant. Sometimes I'll admire an old building or some special feature but all Vin can see is the maintenance issues associated with it. Certainly buildings last a lot longer if small issues are attended to before small problems become big ones.

• Saco, Maine
23 Aug 16
I think that's a guy thing. My late partner was a jack-of-all-trades, and he'd stand there "inspecting" something for defects or things that needed fixing. I just like things to look neat, and that window was disgusting. I AM a good tenant, and they know that, so I can't tamper with success now!


• Bunbury, Australia
24 Aug 16
@Raelove
I guess it is a guy thing. Vin was bursar at a school so maintenance was high on his list of priorities - but it sometimes bursts my bubbles when he finds fault with my grandiose ideas.


• Saco, Maine
24 Aug 16
@JudyEv

Here's one for you: many years ago, when my late partner was head maintenance for the company he worked for, I'd "fix" something around the house. Of course, it was fixed to MY specifications, but never his. I lost track of screws I'd struggled to get all the way in and then he'd come after me, UNSCREW them with his POWER drill, and then redo them "the right way!" Or anytime I used a nail in a wall...I heard about that! He was always, though, open to my ideas. He'd just carry them out HIS way!



• Boise, Idaho
23 Aug 16
I have a similar situation here. We live in a apartment complext. The three bedroom are in a barracks with five in a row. My bedroom is on the back of the apartment upstairs. There is a big oak tree outside the window. I enjoy it, just can't see past it. One time there was a spider web in the corner of this window. When a big storm came a couple of years ago it tore the web off and left it attached to the window in a small grey, ugly mass. Now when I look out I see that. I am yet to say anything to maintenance about it. Embarrassed to bother them with such things I guess.

• Saco, Maine
24 Aug 16
If you can open that window, is there a way you could reach that mass with a stick or a broom handle? If that we're me, I'd be trying to find a way to do it, as that would bother me no end. That would surely spoil the view.

• Boise, Idaho
24 Aug 16
@Raelove
......No, believe me I have thought of that. It is on the opposite side from where the window opens.

• Saco, Maine
24 Aug 16
@celticeagle
Oh, that stinks. Well, just try not to look at it. I know that's hard to do, especially if you're like me and stuff like this irks you!


• Paradise, California
23 Aug 16
It's good you get those things done. Those kind of areas are a challenge. My mom and I have to pay a neighborhood guy to come around and maintain things for us. And my son in law helps us when he's not working, too. I can keep the house pretty clean but anything that involves climbing or much bending, stretching, etc, my neck and/or back and balance issues have stopped that in its tracks. And my mom's 95, we're quite a pair, LOL. Moldy areas would drive me nuts, too. Kind of sickening, really. I'd have to have someone clean it up if I couldn't do it.

• Saco, Maine
23 Aug 16
Fortunately, this required no climbing, as I can't do that anymore either. That's one of the benefits of these ground-level places: a lot of the work is doable from the ground.

• Saco, Maine
23 Aug 16
@marlina
I lived in an apartment up over a garage for a few years, and there would have been no way to clean the outsides of the windows if I hadn't been able to unhook them from the inside. That's the beauty of vinyl windows: you can just tilt them in and clean them without having to go out. This big crank-out window, though, is a bit taller than I can reach the top of. So I did the best I could.

• Green Bay, Wisconsin
24 Aug 16
It's great you got rid of that stuff and put the A/C away so your space is brighter. I'm in unpacking mode now. The rest of my furniture and stuff will be here tomorrow. Then I will be making this space all mine.

• Saco, Maine
24 Aug 16
Oh, good for you. I hate moving, but I have always loved setting up in a new place.

• United States
23 Aug 16
Interesting and nice of you to get it cleaned up there We live in a very old school house and have web most of the time.They are




resident here

• Saco, Maine
23 Aug 16
When I go out first thing in the morning, I can feel them brushing against me across the entryway where spider's left them overnight. Not a feeling I like!