Why I use the Browser I Do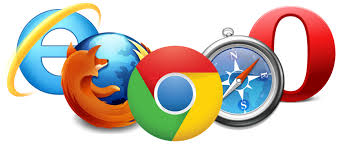 Kingston, Jamaica
August 23, 2016 9:00am CST
Years ago, when I began to use Opera, only about 2% of all users did. Most people used Chrome, followed by Firefox, then I.E. and then Safari. In short, Opera was last. I was so happy. Being last in Cyberspace means the least number of hackers, malware, and interest. When Windows brought out it's Internet Explorer...which came fully bloated on your computer every hacker/cracker and wannabe focused on I.E. as if it were this morning's crossword. Using Anything but I.E. was salvation. As soon as I got a new computer I connected to the 'Net, downloaded a different browser; first it was Netscape, then it was Konqueror, then Mozilla which became Firefox. I only used I.E. to get another browser. And I used that browser to download my Malware protector of choice. By 2008 I developed a hatred for Firefox and switched to Chrome. At the time Chrome had only 3% of the Market, where IE had 46% and Firefox had 44%. In 2011, Firefox had 37% of the market, Chrome had 34% and IE had 20%. It was then I switched to Opera. Opera had 2.5% at the time. During the next years, Chrome moved up, having 46% by 2012 where Firefox had 31%, I.E. had 14% but Opera held at 2%. In 2016 Chrome had 71%, Firefox 17% and I.E. 5%. Blessedly, Opera dropped to 1%. I love Opera. It has everything I want and need plus more. It has it's own ad blocker which works fantastically, because with only 1% of the market who is going to develop anything to in anyway interfere with Opera? No one is going to kill themselves to create malware or any kind of hacking tool when the market is so tiny?
4 responses


• Calgary, Alberta
30 Aug 16
I use Maxthon for Youtube because it blocks the annoying Youtube apps. It also have ability to resume cancelled downloads. I have Opera but I only use it for my "Hidden from my family" facebook account.


• Calgary, Alberta
30 Aug 16
@tallawah
I only use it for my "netflix and chill only" facebook account. I have 2 facebook account, the one for family and friends and the one for Tinder dates.

• Kingston, Jamaica
30 Aug 16
@CaptAlbertWhisker
I like it because it is unobtrusive. It isn't being 'updated' every other day, it doesn't have pop ups and ask me questions.

• Paradise, California
23 Aug 16
I've been using Chrome. Ya know, I forgot all about Opera! I used to use it when I was on a slow connection, couldn't load images or anything.


• Paradise, California
23 Aug 16

• United States
23 Aug 16
Opera sounds like a wiser choice than the others. Just may give it a try.