Is your computer work lifestyle killing you?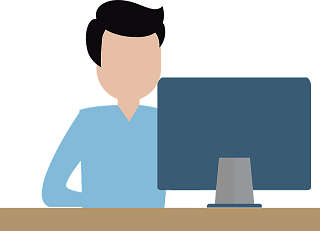 August 23, 2016 6:20pm CST
Sitting for long periods of time at the computer is unhealthy. It can lead to heart disease, poor circulation, strain muscles, overweight, and a sore back. This got me concerned. The health experts advise people to stand up from their desk work every 20 minutes. They say this will improve circulation, posture, prevent heart disease, diabetes, lower blood pressure and lower weight gain. I now practice a daily routine of standing every 20 minutes from my desk computer work, then doing some stretching and exercise movement. Are you sitting too much at your computer?
7 responses

• United States
28 Aug 16
That is great that you learned this and are following the advice. I doubt I sit still that long as I do not work at a desk. I just come here to the internet for fun. I worry if I sit around all the time I will get a flat butt lol so I do exercises to prevent that.

•
29 Aug 16
Yes, I'm glad I found this valuable health information on the internet. Standing on the feet at the computer desk will help to lose weight. At the work place they have the computers set high and no chairs by the computer so employees are standing when working on the computers.

I was afraid of that too.. sitting too much will either flatten or make me have a flabby butt.

Oh, my word let me shut my mouth.



• United States
29 Aug 16
@Micmac
I can't stand for long in the same spot as I have really bad circulation and my legs turn black and throb.



•
24 Aug 16
@skysnap
I hope you're feeling better these days.

I am careful not to spend a long time sitting on my computer work desk to avoid an unhealthy lifestyle. It's important to stand up from the desk every 20 minutes and engage in exercise activity. This will help to prevent heart disease and other dangerous health problems.

•
26 Aug 16
@skysnap
Very good
@skysnap
Oh yes, I'm glad you mentioned about the eyes. It's good to rest the eyes away from the computer screen to prevent eye strain.

I feel much better since I move off the chair from my desk every 20 minutes. Sitting too long gives me a neck strain.

• Waikoloa, Hawaii
12 Oct 17
im sitting in chair for 16 hours in 1 day sometimes 20 hours and i have only 4 hours sleep

• United States
30 Aug 16
Yes it is! I need to get out to do more sports, and a lot more fresh air activities

•
30 Aug 16
@EddieHands
I hope you follow up on that sport and outdoor activity routine! Good luck.


• Garden Grove, California
26 Aug 16
I do not do it every 20 minutes as how can you accomplish anything' bouncing up, down like a yo you I' move every hour and I'm feeling great so it must be okay.

•
26 Aug 16
@Hatley
Oh that's great you move to get exercise from your desk every hour and I'm glad you're feeling healthy.

I find I can concentrate when I stand up in front of my computer desk every 20 or 30 minutes. I raised my keyboard on a higher board and placed my monitor on a box so it doesn't strain me while I type. I feel much better to take the breaks, less neck strain, better circulation and posture for me.

• United States
24 Aug 16
these thingies're most evil, 'long with those smart phones 'n other gadgets - particularly fer youngsters. noperz, i'm up/down all the time. sittin' 'n me jest don't get 'long too well.

•
24 Aug 16
@crazyhorseladycx
Yes, and these gadgets will cause people to lead a sedentary life which makes them over weight, prone to cardiovascular problems and lots of other unhealthy conditions. From all the horses you take care of and your farming chores, I see you are very active in your life. That's good you don't sit down for hours on end. Staying up on feet is a life saver.