A special act of love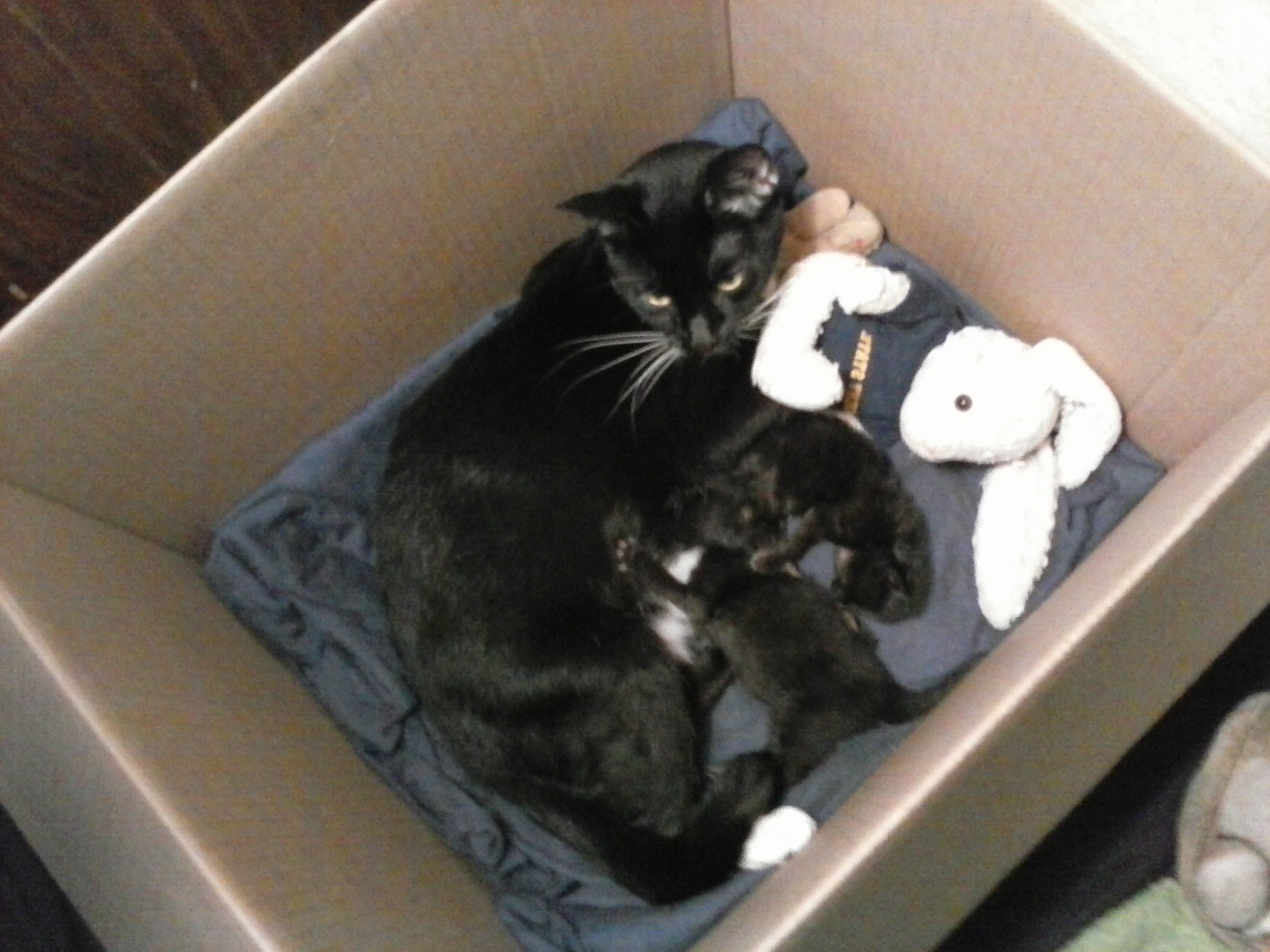 United States
August 24, 2016 7:50pm CST
About four weeks ago, I had returned home from work early in the morning and heard these cries. I investigated and found a tiny two day old kitten hidden in the weeds by our shed. No mother cat in sight. For a week, my mom and I had stayed up with him, caring for him and feeding him round the clock. We named him Sage. One week later, my cat Rin who lost her only biological babies in 2013 finally adopted him as her own. Two days later, my mom and I returned home from shopping and heard more cries. I found another kitten, eyes open, but still small, about a week old, under our dog house. (The dog was inside the house). I placed him with Rin and Sage, and she took him in right away. Amazingly, she's produced a little bit of milk for these little ones. They still received kitten replacement formula every two to three hours. Today, Sage and Koda are four weeks old. Sage is affectionate, and Koda is the little adventurer. Rin loves them very much, as if she herself had given birth to them.
6 responses

• Malaysia
25 Aug 16
They're adorable! Glad they all get along so well.

• United States
25 Aug 16


• United States
25 Aug 16
She does very much! She's very protective of them too. Sierra, our one year old cat we rescued at five weeks of age (who Rin also adopted) was trying to play and got a bit rough with Koda. Rin scolded her. Poor Sierra looked so depressed.

• Toccoa, Georgia
25 Aug 16
That is such a sweet story. It is great you were there to rescue and give the kitties a loving home.

• United States
25 Aug 16
I'm glad as well! Who knows what would have happened if their cries had gone unheard. I hate to think about it.

• El Paso, Texas
30 Aug 16
Poor babies, it sounds like momma was trying to relocate her litter and something happened to her that prevented her return. Thank goodness for kind souls like yourself and of course Rin.

• United States
31 Aug 16
We originally thought that when we first found Sage. I had gone back outside to look for any remaining kittens the same day and none were found. Normally when a mother cat is relocating her kittens, she'll do it on the same day, even when abandoning them. A week later, Koda was found under our dog house, and he's the same age as Sage. We think someone's cats had kittens, and they didn't want to deal with it. Sage was left first because he was very tiny; they probably believed he wouldn't survive long any way. Koda was abandoned next, a week later. If not for their screams on both times, I would never have found them. Today, they are doing marvelously well. It's sad that people in my area abandon cats all the time. My one year old cat Sierra had been abandoned at five weeks of age. She ran up to my big dogs and me out of desperation. Rin adopted her too. Today, she's a handful. Lol.

• El Paso, Texas
31 Aug 16
Meetzee and Max were found stealing Shatzies food, Shatzie was mom's german shepherd, but they were both at least 6 weeks old when mom first saw them
@Firestorm0122
they liked her dog but didn't let her pet them until they'd grown a little. Funny how dogs attract kittens sometimes.

• Canada
25 Aug 16
Rin looks very happy with her adopted. What a beautiful little family and such a nice story of love.

• United States
25 Aug 16
Thank you so much! She is very happy with them. You should see her react whenever they're out of the box. She demands very vocally they be put back.

• Canada
25 Aug 16

• United States
25 Aug 16
What are you going to do with them?

• United States
25 Aug 16
I think it's a safe bet we will be keeping them. They've been to the vet for a checkup. Everything went smoothly. They were dewormed. We'll be getting them neutered when they're old enough.