Ebay and Amazon allow these scammers sell these fake products.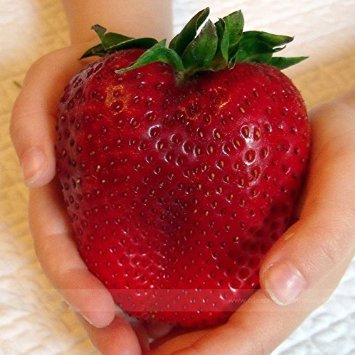 Calgary, Alberta
August 26, 2016 6:59pm CST
I love Gardenning! As a homesteader nothing is much more rewarding than harvesting your own produce. I sold my Condo Unit and my white collar job in the city so I can have a hobby farm. I decided to buy some seeds online so I can plant some produce when I notice there are some suspicious products being sold online. As You see in the picture, There is a giant strawberry. The sellers from Ebay and Amazon sells giant strawberry seeds. For sure that sounds enticing. On Ebay and Amazon you have 30 days to make a dispute or a refund. Well you will only know if the seeds you purchase is fake or real after more than 30 days. Guess what if you purchase these so called giant strawberry seeds. You will end up growing regular strawberries! These scammers also sell blue strawberries .Green strawberries, Rainbow roses seeds and Purple Watermelons.... These things don't exist! They use photo shopped pictures.
7 responses

• United States
27 Aug 16
Yes one has to be careful about buying these items for sure on that Amazon..and eBay too. It is not nice of these scammers to do this disservice to others. I was happy to know you had gone to your dream my friend.



• Calgary, Alberta
27 Aug 16
It is really bad that these sellers are not getting banned and they still deceive people. I think it is better to buy seeds in person rather than online.

• United States
27 Aug 16
@CaptAlbertWhisker
Yes I agree Albert. A few times items have been misrepresented on the sites there that I buy from as in Amazon..

• Calgary, Alberta
30 Aug 16
@TiarasOceanView
These sites should realize these scammers are threat to their reputation.


• Philippines
27 Aug 16
They are deceiving buyers. Ebay and Amazon should not allow such people use their sites for it.

• Calgary, Alberta
28 Aug 16
These scammers had been there for years so imagine how many people they already deceived.

• United States
27 Aug 16
It really is amazing to me that they are allowed to get away with it, but I guess if no one can prove that they're scamming people, they can continue. Innocent until proven guilty. But still so sad.

• Calgary, Alberta
28 Aug 16
we only have 30 days to make a dispute, It is more than 30 days before we find out what the fruit would look like. I think shopping sites should change their rules when it comes to seeds.

• United States
29 Aug 16
@CaptAlbertWhisker
I agree. And if more customers would write their complaints to ebay, it's possible that they would do just that.

• Calgary, Alberta
29 Aug 16
@CRK109
I think I will not but seeds online anymore. I will just go to reputable seeds stores and gardening shops.


• Philippines
27 Aug 16
Im glad Im done with ebay. I bought the sims 2 and two expansions in their site, so far no problem for me

• Calgary, Alberta
27 Aug 16
These fake seeds also made it to lazada which is the most trusted shopping site in our country.

• Philippines
27 Aug 16
@CaptAlbertWhisker
What a minute, why don't you visit the Bureau of Plant to get seeds? the only office i know is some where in malate close to lrt. why don't you check this and give them a call? or email you know if i was interested in gardening when i was a kid i would have bought seeds because my school was right beside their facility. So have you reported these people? what happened? try the site i gave you might work.

Bureau of Plant Industry,Bpi, Agriculture, Plant, Bureau

• Calgary, Alberta
27 Aug 16
@Letranknight2015
I can only report them if I buy products from them. There is no way I will waste money by buying "rainbow roses" or "Metalic skinned mangoes" just to report them. I will check Bureu of plant and see the seeds I can buy there. I hope they have some exotic veggies and fruits.


• Calgary, Alberta
22 Feb 17
The seeds of Rainbow grapes, glow in the dark roses and other non existent seeds are also in Lazada.

• Wausau, Wisconsin
27 Aug 16
I shop Amazon all the time. I like it there over Ebay

• Calgary, Alberta
27 Aug 16
I can't believe these scammers are now in Amazon. Seriously someone thereis selling seeds of giant strawberries which dont exists at all.

• Roseburg, Oregon
27 Aug 16
I guess they figured that they would sell more with fake pictures.

• Calgary, Alberta
27 Aug 16
It is really annoying that Amazon and Ebay are not banning them.