Nice Weekend After-all...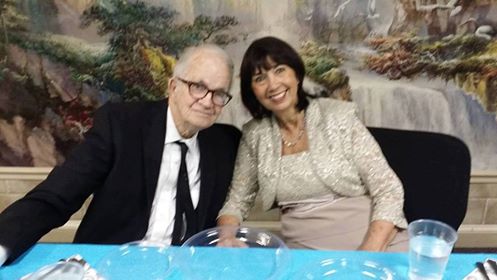 Jacksonville, Florida
August 28, 2016 10:29am CST
Friday night, all day Saturday, and so far today, were good days for me. I spent Friday evening watching the Golden Girls. They can always make me laugh, especially the "Sofia" character. Then Saturday: I attended my friend Obie's memorial service. It is hard to believe that I have known Obie and Lydia for 42 years. It did not seem like a funeral was taking place at all. You could feel the life in the room. Of course the sound system went out during one of the songs someone was singing, but not before this loud screech happended, that lasted for about a minute. It was piercing to the ears! But it brought humor to the event, nonetheless... During the entire time...they had a beautiful display playing, of family photos of Obie, throughout his life time, on a virtual screen. Then Lydia's brother stepped up, and shared some memories that several family member's had written down. Some were humorous. Then a few others spoke... Mainly just sharing...that though we will all miss Obie, he was actually beginning his new life now! Walking on the streets of gold; happy (no more tears), healthy, and whole again...for an eternity!!! Plus...they spoke of what a great family man, and dad he was. Almost made me envious to wish he was my dad. At the end: a Spanish speaking pastor (with an interpreter), gave a short sermon, and his experiences with Obie, and how he missed him. Then...an alter call was given. Lydia's cousin came forward, and gave her heart to Jesus. It made Lydia very happy. She went to the front, and hugged her with this huge smile on her face, for several minutes. I told Lydia afterwards: That only God can take death, and breathe life back into it. She said, that she liked that statement a lot. The church was packed. Obie and Lydia's son Kevin said: that they had only planned for about fifty people, and over a hundred showed up! After the service was over, we went to the cemetery for a military salute. Where they played taps, and honored Obie with a medal, and an American flag was given to Lydia. Then came the reception, where there was food galore!!!! Good and tasty food too! I got to meet some of Obie's and Lydia's family, that I never met. I had a nice long talk with Kevin's (Obie's son) oldest daugher, Nicole. She was a very delightful, young lady. I got a chance to speak with Connie (Obie's and Lydia's youngest daughter)... It had been a long time, and it was nice to see her again. I also had a chance to greet an old roommate of mine that I had, when I attended Beaches Chapel. She recognized me, before I recognized her. Her name was Denise. I told her that the last thing I remembered about her was; that she had gotten a new dress, and wanted to show it to me. So she twirled around, modeling her new dress. Her husband said that she was still doing that... She gives herself a twirl, every time she buys something new. LOL Then there were a couple of other past Beaches Chapel members that showed up, that I had not seen since those days. All in all... It was a lovely day. Filled with great memories, and very few tears. It was more like a celebrated reunion, than a memorial service. In fact... If you want to know the truth. It was the first time, since I moved back to town, that I really felt like I belonged in a group. I felt right at home. Even with the folks, that I met for the first time. The highlight of the day for me was: when Lydia realized that I was still in town. She was surprised to see me, and asked how long I would be in town? I told her that I was living here now, and had gotten an apartment at the beach. For some reason...several people told her that I decided to return to Houston, which was my original intention. However, I thought she knew I had stayed. I guess with Obie going down so quickly; she was caught up being with him, that she never paid attention to my Facebook posts. Anyway... Soon after that...her next words to me were: "I can see the life of God on your face. His presence is really there. I can tell that your relationship with God has really changed, and you have drawn closer to Him." Wow! That was a breath of fresh air, to hear her say that about me. Then she said: "Call me"... We have to get together again. It was so refreshing, and wonderful, to hear someone tell me that they wanted me back in their life. I told her that I wanted to give her some time, before I called. Give her time to adjust to living without Obie. She said okay, but not to let it go for more than 10 days. So...I promised that I would call her in 10 days. I also plan on making her a nice dinner, and bringing it to her. While I stayed with Obie, and Lydia for that month; I made dinner several times. Lydia and Obie loved my cooking. I am sorry...I won't be able to cook for Obie anymore, but glad I will still have the privilege of doing it for Lydia. Today...to conclude, what ended up being a wonderful weekend: I plan on watching more Golden Girls, and begin my marathon watching of CSI Miami, that starts this afternoon; while eating some leftovers. They had us take some of the food home with us from the reception; because there was so much, due to the large turnout.
4 responses

• India
28 Aug 16
your post is what they say about life and living through it positively

• Jacksonville, Florida
29 Aug 16

• Paradise, California
28 Aug 16
How nice that you could get reacquainted with a good friend like that, and more than one it sounds like. It's too bad it was at a sad event, but it sounds like your friends have led a good life. The Golden Girls was a special show,so funny! Nice to have the leftovers and a TV show marathon too.

• Mumbai, India
29 Aug 16