My budgie is Idiot!!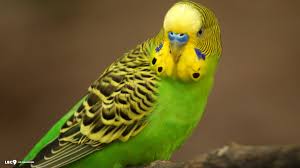 India
August 31, 2016 5:20am CST
The above picture is not that of my budgie.Its from internet .But its looks exactly same.

.Its also male budgie with blue nose. My budgie like cucumber so much.I generally cut it in long pieces and put that in his dish.But this time i cut it in different round shape instead of long shapes.When i enter my hand in his cage today to put cucumber in his dish ,he panicked.Started flying everywhere in cage like crazy.Finally I have to retreat ( I was scare he will hurt himself if i dont remove cucumber cut in different shape from his cage). I went back to kitchen.Cut another cucumber in long shape( the way i cut always and put it in his cage.Then he recognized cucumber and started eating it. I wander how these bird species who panicked on small small things survive in jungle or their natural habitats.They seems really idiotic creatures to me. But they are cute and i love them anyway.
3 responses