Scar is being spastic

September 1, 2016 6:26am CST
I guess it is the cooler weather...it's only 60 F this morning (16 C) and he's enjoying it a bit. Seems like every time I turn around I am being pounced at, or he is racing down the hall chasing imaginary monsters, or something.

It's only supposed to reach around 79 F (26 C) today, so it should be a great day...and the A/C they installed at the house we're working on yesterday probably won't be needed now.

(Sure could have used it a few days ago when the heat index was hitting 102) Reminds me of when he was a kitten and
always
like this...

The cooler temps really get him motivated
11 responses

• Canada
1 Sep 16
Respite from oppressive heat makes Scar feel young again.


•
1 Sep 16
I leave a fan running for him while I am at work when the heat gets bad...even when he goes out, he only wants to lay around in it, that black fur probably keeps him a bit too warm

• Canada
1 Sep 16
@JolietJake
Black hair can get really hot. I escorted a group of Japanese students through Disneyland in California in hot weather. I'm blond so I didn't really notice how hot it was till one of the girls had me put my hand on the top of her head. Wow. Could have fried and egg on her. They ended up buying sun hats.


• United States
29 Sep 16


• Los Angeles, California
1 Sep 16

•
1 Sep 16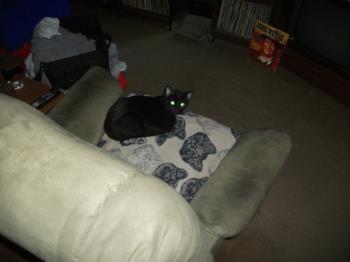 Looks like he is finally winding down for a bit, he's been going for about 4 hours now

• Los Angeles, California
1 Sep 16

• Cuyahoga Falls, Ohio
1 Sep 16
Poor Scar. Hopefully he'll calm down.

•
1 Sep 16
He's been bouncing for hours now, should be getting close to nap time

• Cuyahoga Falls, Ohio
1 Sep 16


•
1 Sep 16

Skip navigation Sign inSearch Loading... Close Yeah, keep it Undo Close Watch QueueQueueWatch QueueQueue Loading... Watch Queue Queue __count__/__total__ Loading... Find out whyClose Olney Music Scene SubscribeSubscribedUnsubscribe6868 Loading... Loading.

• Centralia, Missouri
2 Sep 16
lol enjoying the cooler temps!

• United States
1 Sep 16
Sluggish no more. That kitty is feelin' good!!! He has the "zoomies!"

• Boise, Idaho
1 Sep 16
Is it the cooler weather? I wondered. Out cat, Colbert, was dong the spastic thing this morning about 3a. Running through the house, jumping up on things, acting like a cat with his tail on fire. I thought it was the moon or lack of it.


• United States
1 Sep 16
He is so adorable. I'm not too happy that it is getting cooler, I don't feel like I got enough swimming and canoeing in this year. Then again, it makes sitting at the computer (in a room with no A/C) more comfortable.