Living in Riga, Latvia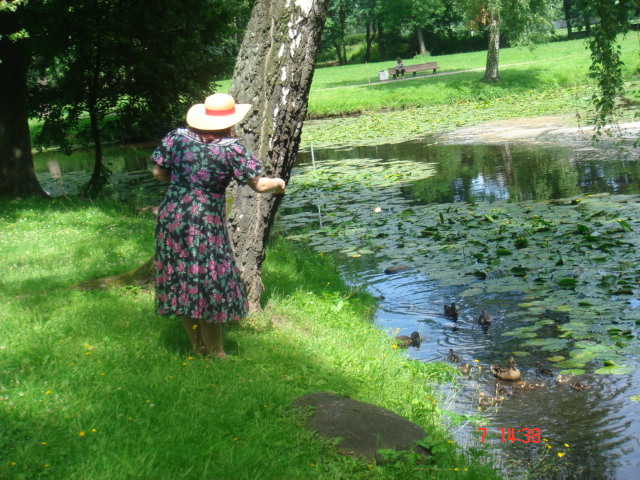 Daytona Beach, Florida
September 1, 2016 2:45pm CST
Living in Riga the capital of Latvia which is one of the Baltic States has its advantages. First of all let me tell you that Riga like other cities such as London and Paris is divided by a river. The Daugava runs through Riga and divides it into the right and left bank. The Old Town and the city center are on the right bank and Pardaugava (translated means Over the Daugava) is on the left bank. Now for the people living in the city as we say here there are quite a few city parks which they may enjoy. The Old Town is interesting to explore and it has been named a World Heritage Site. But I didn't start out to tell you about those living on the right bank. I want to tell you about the wonder of being able to say that you live in Riga which everyone associates with city life and being able to live in suburbia. We who live on the left bank of Pardaugava have it all. This is the ultimate suburban living. My neighborhood is called Ziepniekkalns. After a short 30 to 45 minute ride from the city center here I am among trees, fields, paths through forests virtually everything to feel as far from the city you can feel. I must mention that my neighborhood is divided into two parts so that we live in the private house area while on the other side people live in apartment buildings. My husband Martin and I live in a private house with a large garden. My street is a dirt road and once I leave my house if I don't go to the store I can wander through woods or along country-like roads. This is what I prefer and yet I am still living in Riga. As you know our cat Sid feels like he's living in paradise. He climbs fences, pine and apple trees. My husband saw him returning one night after a visit to the neighbor's garden slowly traveling up the street with not a care or worry in the world. Now I can imagine if we lived on the other side say in an apartment somewhere on the 5th floor and I would look out the window and see Sid up a tree and the street, people, dogs and cars below no thank you. What about the people who live in apartment buildings on our side of the river? Since Soviet times there are many micro neighborhoods. The kind where one apartment building is next to another apartment building. I guess the so called apartment blocks. I wouldn't live in them but since they are in Pardaugava they still have the advantage of the same things I do. There are fields, parks, woods and such surrounding these neighborhoods and they also have many trees, play areas and benches on which to sit within their own territories. So either way I am pro-Pardaugava. From where we live the distances from one neighborhood to another are not so great. Therefore there are times when my husband and I walk all over Pardaugava going from neighborhood to neighborhood. There is one lovely area called Agenskalns and we enjoy walking in Arkadijas Park which is one of the most beautiful landscape parks in Riga. There is a pond there upon which ducks swim and shady paths to walk on and benches where you can sit under majestic trees. Like an oasis among the traffic on the surrounding streets. Opposite is Mara's Pond along which runs a path and there are benches for people to sit as well and relax and feed the ducks in that pond. It is a very lovely area. Walking along you find many interesting side streets and houses and such and I can say that afterwards I wouldn't be able to tell you where I was but then when we do it all over again we find it interesting to note that yes this is where we were that time. Each time we even discover new and unusual places like the time we wandered along the side of a railroad track and it felt as though we were the only two people in this world or the summer we went wandering in Arkadija Park and discovered crumpling steps like from ancient Roman ruins with wildflowers growing along the sides. In other words give me the best of both city and country living. Picture of me feeding the ducks in Arkadija Park
5 responses



• United States
1 Sep 16
What a charming photo of you and the lovely place you live my friend. I love the dress also and your cute hat. You truly are in heaven there, as I see it. I thank you so much for showing us these place and the history of it. I just showed Mama this pic and she loved it, as she lays in bed resting. It reminds here of her homeland Ireland too with the green and the ducks.


• Daytona Beach, Florida
4 Sep 16
The only bad part is when we have bitter cold and snowy winters
@TiarasOceanView
then it can be unpleasant because I cannot take very cold weather. Last winter we got lucky and there was hardly any snow. Yes, the countryside and such is similar to that of Ireland. Glad your mom liked the pic.


• Daytona Beach, Florida
4 Sep 16
We are lucky to be living in the suburbs. The city center is not far but it is a huge difference
@Shiva40
There is a lot of dust and pollution on the city side. Still there are green parks for the residents to get off of the busy streets.

• Daytona Beach, Florida
4 Sep 16
In that case too bad Monet is no longer among us. I would have loved to have him paint that picture of me
@MALUSE