What do you think of Colin Kapernick?

United States
September 5, 2016 6:57pm CST
I don't want to start a fight, but he is the football player who refused to stand for the National Anthem due to the treatment of black people by some police officers. I don't agree with his method, but he does have the right to protest if he wants to.
3 responses

• Philippines
6 Sep 16
In my opinion, there is a better way to protest and to get a point across. I wish he did not take this direction even though he has a right to do so.

• United States
6 Sep 16
Yes, well if his intention was to get attention to the cause, he certainly did that!

• Seattle, Washington
6 Sep 16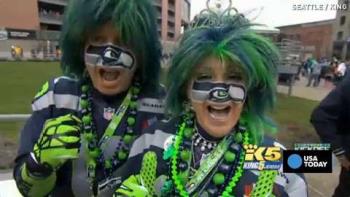 Having the right to do something doesn't mean it's morally okay! It's funny you mention him. I live across the street from Seahawks superfans "Mr. and Mrs. Seahawk." Jeff (Mr. Seahawk) was just diagnosed with cancer, and today he named his tumor Kapernick.

• United States
6 Sep 16
I think wearing pig socks was just wrong, and tacky.

• Seattle, Washington
6 Sep 16
@Plethos
That is so touching! I'm bringing him a meal soon and I'll let him know that everyone's rooting for him! They are some of the nicest neighbors ever.

• Philippines
6 Sep 16
People are bored that they're willing to bash anyone that's on the news, what about that so called athelete who was release after 3 months from the charge or raping a student in her sleep? I mean were should we get angry at most? At least he chose to sit down.