Claw Machine of Shenanigans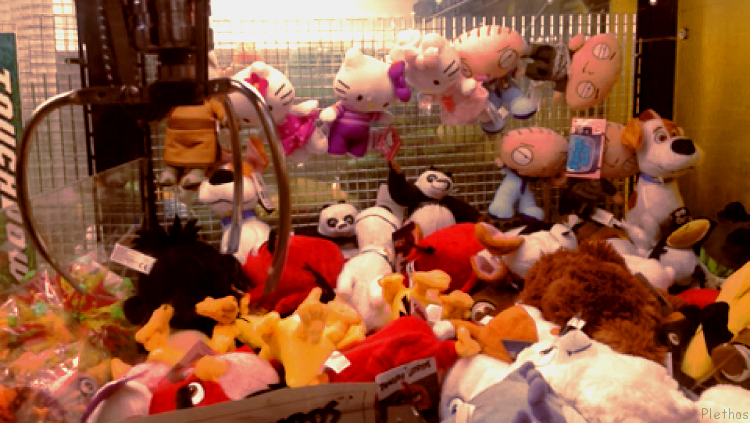 United States
September 5, 2016 9:33pm CST
I like to play a few turns on claw machines when ever I spot one. Whether it's at a Denny's, WalMart or at the local mall. I have yet to win anything out of these damn claw machines! No matter how much skill I try to use, I always come up empty. Earlier this summer, on one machine I noticed that the claw never bothered to close ! It opened up on its' way down, but on the upward path, the claw never closed! It just stayed open. I turned around and walked away, when I did so, a kid no older than maybe 10 inserted his dollar to play. I told the kid's parent the claw didn't close and on the first play it didn't close. On the second play, guess what, it closed, he won a stuffed animal! So, yeah, I was mad. When he left I decided to play one try and it must've remembered me, because the claw didn't close. Fast forward to just this weekend, my gf shows me a pic of her co-workers child posing with about 7 stuffed animals that he won out of a claw machine. I was pissed. My goal this year is to win once, just one stuffed animal or any tiny trinket for that matter will suffice. I will boast of my WIN on here when I do. Stay tuned . . . -Picture taken by me, Plethos-
6 responses



• Aurora, Missouri
13 Sep 16
Uhm... then you might be interested in reading what one owner of an Arcade has to say about the Claw Machine, Plethos. I hope his tips help you out! Good luck!


An arcade owner from somewhere in central California popped into Reddit late last night to confirm, in exacting detail, what everyone has long suspected: those goddamn claw machines do deliberately have a tissue-thin grip, even when you think you have it l

• Lenox, Georgia
7 Sep 16
I am so glad I'm not the only one that NEVER wins anything on those stupid machines! LOL. Those machines hate me I swear. My kids are always like mom your an adult you can win for me. I look at them like their crazy and say-trust me your better off doing it yourself.


• Lenox, Georgia
7 Sep 16
@Plethos
It's crossed my mind but then I decided I am a better example than that for my kids. Lol.

• United States
8 Sep 16
@LovingMyBabies
- hmm, i have no kids. i dont need to be an example to kids. Hmmmmmm. ..



• United States
6 Sep 16
My dad taught me tricks when I was a kid, but not the machines are timed now, so you don't have time to go stand on the side etc. My son-in-law has really good luck playing and winning.

• Aurora, Missouri
4 Oct 16
Hey, Plethos! While I was writing the discussion about how to get apps added to an Android phone, I found one you might like to take for a spin.... It was a virtual claw machine! Just type claw machine into your Play Store. IDK if it would be fun for you to play or not, but I thought you might like to know they have a virtual game like that! Too bad they only give you virtual toys if you win!




• Aurora, Missouri
5 Oct 16
@Plethos
Uhm... because my blow up doll has sprung a leak, so I have no other form of entertainment???




Well, I had no way to know you don't like to play games on your phone, now did I? I thought I was telling you something you'd like to know...


So, how about them (put the name of your favorite ball team here)?

How are they doing this year?




• United States
6 Oct 16
@DaddyEvil
- not your fault, you didnt know. im not a big video game player. if i do, its only for a few minutes or days per year. im more into hearing podcasts and talk radio.


• United States
5 Jan 17
supposedly the more quarters you pump into that thing,the stronger the grip gets. when some people give up,other people luck out. stores can set that thing too. my brother wins with that thing all the time.i usually ask him to get something if i want it that bad.


• United States
7 Jan 17
@Plethos
yup.i asked him to get me the "peter criss" doll out of walmarts-he got it by the hair.i couldn't believe that..


• United States
8 Jan 17