Not The Best Of Hunters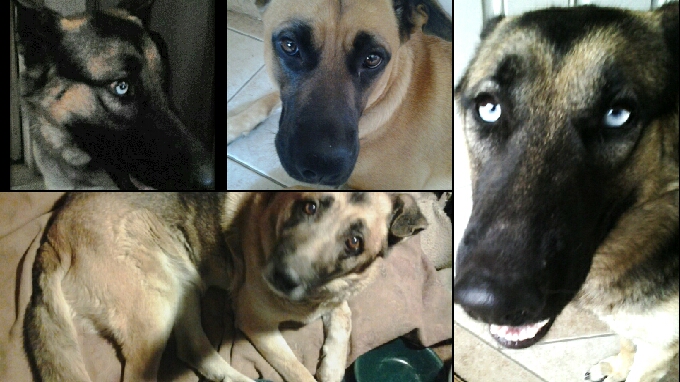 Redlands, California
September 6, 2016 11:38pm CST
I know I should stop comparing Brooklyn and Kai to Tristen. I just cannot help it for some reason. To be fair, Brooklyn did catch a baby bird as a 5 month old puppy and one not to long ago. She did not kill that one. My brother actually saved the baby bird and tried to give it back to its mother. You know what happens to baby animals once they come in contact with humans. It seems most of the time they get abandoned. The mother did seem to hang around from up above because they baby bird obviously could not fly. It seems it failed its first flying test and Brooklyn did not help. Which is no wonder the baby bird came wondering back in yard and Kai did kill it. We tried, and that was low hanging fruit for Kai. Put a rabbit in front of Brookyn and Kai and they have no chance. Brooklyn is damn near agile as a cat, but lacks speed. Kai has the speed, but is clumsy as heck. That is why it was so funny the other day when I took them on their walk. A bunny rabbit shoots across 2 feet in front of me. Lagging behind Brooklyn and Kai, both crying because the bunny rabbit was to fast for them. Something Tristan would never do. If he could not catch them, he just pretend he was really running to pee on a bush. Again, to be fair. Tristan was to old to teach either one how to hunt. His legs were going out on him when we acquired Brooklyn. He was crippled by the time we acquired Kai. I guess, it really does show, sometimes you either have it or you do not. No one taught Tristan how to hunt, but he was a straight up killer to rodents.
5 responses

• United States
7 Sep 16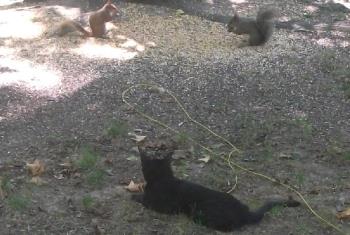 Scar doesn't seem like much of a hunter when you watch him out front with the squirrels...he'll either just lay there and watch, or often take a nap while they feed a few feet from him, or occasionally give a half-hearted playful 'pounce' at one of them. But chipmunks? I only have a couple of them around, and Scar is on them like lightning. He snagged one the other day while I was out there but I was able to rescue it.

• Redlands, California
7 Sep 16
I hated that too because you know it is not about survival. It is instinct, but for all the wrong reasons. lol Not like I could stop it though,unless keeping him on leash, but that is what they are meant to do and do not believe in getting a dog and chaining them to a tree. That is your brother or sister and they protect you. He or they need freedom and to do what they do. He would not eat them, but always made him drop the carcass so the coyotes could eat. One time he was to proud.It was his first bunny rabbit kill and he carried it all the way home showing it to every car that passed. I tried to see if my sister wanted to cook it, but sad to say we thew the carcass in the trash. The only time I felt bad about his hunting abilities. lol Scar likes chipmunks, all animals have their preferred meal.

• United States
7 Sep 16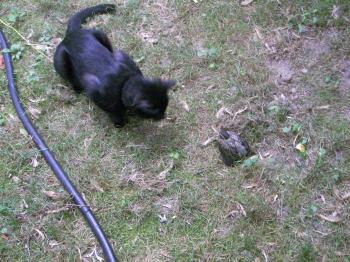 @crossbones27
He did try to make friends with a baby robin a few months ago...I was surprised that he was simply checking it out instead of trying to munch it


• Redlands, California
7 Sep 16
@JolietJake
That is pretty neat,. Cats hate birds, but also think they like a chase. Also as much as people like to think of cats whether small or big as monsters. They have a reason for doing everything they do. All about self preservation. No threat, they show how compassionate they can be. Wish people would learn that,


• Redlands, California
9 Sep 16
They do, definitely a team and you get two for the price of one between them. lol

• Denver, Colorado
7 Sep 16
I've never had a dog that would've made a good hunting dog.

• Redlands, California
9 Sep 16
I think there is a lot of dogs like that. Been crossed bred to much and domesticated for to long.

• Roseburg, Oregon
7 Sep 16
I think with some animals it comes natural on how to hunt.

• Redlands, California
7 Sep 16
That is very true and with people too, as much as people say hard work will also do it. Sometimes, not always.

• Banks, Oregon
7 Sep 16
lol that's funny, pretend he just ran to pee on a bush.

• Redlands, California
7 Sep 16
I think they should make all dogs comedians. lol