They looked so funny....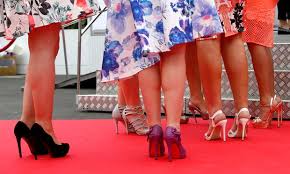 Kingston, Jamaica
September 11, 2016 10:05am CST
When I want a good laugh I go to the Supermarket on Sunday just after 9 am. The 'Church Sisters' are all there, busy shopping. They are tottering on these ridiculous high stiletto heels. Now I thought that in the late 60s women had escaped the insanity of those heels. I assumed they were gone forever. Ha! To see these women showing off as they totter around doing their shopping, always has me stifling laughs, and wearing a huge smile.
6 responses

• Toronto, Ontario
11 Sep 16
I know a lot of my friends wear those and I couldn't imagine! Must hurt their feet.

• Toronto, Ontario
11 Sep 16
@tallawah
That is very true! I just couldn't imagine going out and being uncomfortable just to look good.

• Kingston, Jamaica
11 Sep 16
@ricki_911
It is just insane to wear them to shop in a supermarket. It is bad enough to wear them when one 'going out' .

•
25 Apr
@tallawah
I can see why you would laugh. I would too.

•
25 Apr
@tallawah
I can only wear flat shoes. High heels are not for me.


• United States
11 Sep 16
I will always wear heels, but 2-inch heels would be as high as I would go now. I have always worn them, so I am very used to walking in them. No one should ever totter when wearing heels.

• United States
12 Sep 16
@tallawah
Yes, 5-inches is going to the extreme. I wore heels all the time when I taught, but they were appropriate for any store.


• Garden Grove, California
21 Sep 16
yes I have seen them to on stiletto heels here in the retirement center the new staff all wear those silly skinny heels and skirts so tight that they cup their bottoms and they think they are the cats pajamas as they strut around,.

• Canada
11 Sep 16
My daughter always wears them and I did when I was younger but there is just no way I could ever wear themy now. They would kill my feet and back.