More about Monarchs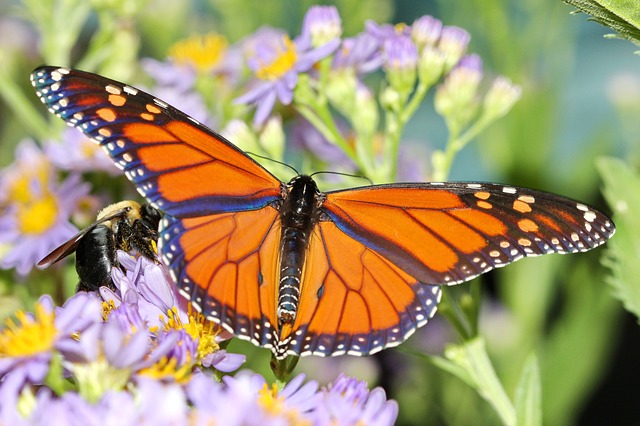 United States
September 11, 2016 12:25pm CST
This one's for @JudyEv. First of all, if you really want to read the definitive book on monarch butterflies, read "Chasing Monarchs" by Robert Michael Pyle. I met Bob Pyle several years ago and was amazed by his in depth knowledge. His book follows a migration, from the northern part of the US all the way down to Mexico where they winter over. Here are some facts about monarch butterflies. The caterpillars grow up eating milkweed pods, which are toxic to most creatures. They store the toxin inside them, making taste awful to predators. When they emerge from the cocoon, they need the pressure and struggle of getting out to fully form their wings. The wings need that squeezing to force the blood into the little vessels all through the wing, which makes the wing pop out rigidly, ready for flight. A monarch who is helped out of their cocoon by cutting will never be able to fly. Only every fourth generation of monarchs migrates. The first three generations mate, lay eggs, their eggs pupate, and the pupae transform into butterflies but they only live six to eight weeks. The fourth generation is the one that migrates and lives for six to eight months. They are the ones who reach Mexico. The research is not clear on this, some sources seem to indicate that all generations migrate but they each just go successively farther. The research is still evolving here. In total, monarchs can migrate up to 2500 miles and fly at speeds of 12 to 25 miles per hour. They complete another four generations through the winter till this next fourth generation is the one to fly back north, to the milkweed pods up there. In flight, monarchs can move the different fluids around in their body to shift their weight as they use up their fat reserves. This helps them fly more efficiently. Personally, I didn't know that about the four generations thing - I learned that researching for this post. That would explain why we saw a mating flight the other day! Previously I'd thought they did all their breeding up North.
9 responses


• United States
11 Sep 16
I'm not sure. I remember reading this morning "Monarchs are a milkweed butterfly" which implies there are other butterflies who also eat milkweed, but I'm not sure which ones.

• United States
11 Sep 16
I am happy to know that we have plenty of milkweed around here. More monarchs is a very good thing!

• United States
11 Sep 16

• Midland, Michigan
9 Oct 16
Interesting information on this. I didn't realize they were mainly in our part of the world. I saw your post on the sidebar of someone else's I was visiting and remembered your name from somewhere. I don't know if I've crossed paths with you hear or if it was bubblews.

• United States
9 Oct 16
Could have been Bubblews... good to see you again!


• Centralia, Missouri
12 Sep 16
milk weed when injured, say a leaf broken off to feed your caterpillar in a jar, oozes gross white stuff. never touch thier wings, you can hurt them easy when the color fuzzy stuff rubs off, can keep them from being able to fly

• United States
13 Sep 16
Definitely. Just like a moth.

• Bunbury, Australia
12 Sep 16
Thanks for that. What an interesting post! I've read before that those that migrate have never done it before but just go by instinct. Remarkable creatures.

• United States
12 Sep 16
That's true. Whether it's one single butterfly generation, or multiple, nobody shows them how or when - they just go.

• United States
11 Sep 16
I enjoy seeing the butterflies flitting about when they are in the yard. They are so beautiful.

• United States
11 Sep 16
Me too. Blue morphos, yellow swallowtails, monarchs.

• United States
11 Sep 16
Yes indeed, and I'm seeing them early this year. I think it's going to be a cold winter.

• United States
11 Sep 16
Thank you so much,
@Rohvannyn
, for your informative and important post. I have been aware of the plight of the Monarch for many years now and I've always felt bad that I can't personally do more to help them. I would love to plant milkweed as I am on the migratory flight path of the Monarch but I live in an apartment and have no land to plant it on. Late last summer I had a sublime Monarch experience. I was on one of my daily nature walks when I saw a small swarm of Monarch butterflies fly by. There were maybe a hundred of them, maybe a little more. They were like a little beautiful cloud that came out of the Northeast. They were flying just 5 to 10 feet off the ground. It seemed they were looking for something to land on but they didn't stop flying. They flew round and round and slowly the swarm kept moving in a southwesterly direction. I knew they were headed for Mexico. I stopped walking and just watched them. They were like a little orange and black cloud moving by. I was overcome with joy. My heart swelled with love. As they passed by me and headed into the distance I said a prayer for them that they would make it all the way to Mexico. Mexico is so far away and it seems like such an impossible task for such little creatures to make it so far. I sent them my love and my desire that they make it through all the human obstacles along the way. This world we live in is so incredible and so beautiful. Every creature in this world is part of that. Humans have become so detached and separate from nature that we no longer see that incredible beauty. We no longer feel part of it. I not only pray for the Monarch butterflies but I pray for humans. May we rediscover nature and our part in it.

• United States
11 Sep 16
Do you have a patio? I wonder if you could grow milkweed in a window box? Thank you for your lovely response.