The love triangle!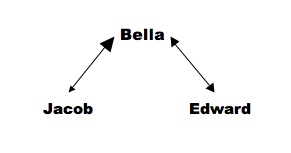 India
September 12, 2016 4:14am CST
Hey i was asked by my friend to help her with a suggestion what to do...let me tell you guys a story and post me your ideas. I'll not reveal names to maintain their privacy! As in the picture take Bella fell in love with Edward who is a foreigner ...that means both Bella and Edward live in different parts of the globe...they even don't know their language and they communicated all the way in English. Bella feels Edward is the best man she ever met as she had manyyyyy bad experiences regarding men both from her home and schooling...Bella is from India and Edward is from iraq, but he is now in India for studying and she has so many ridiculous customs that women are disrespected always. But Edward gave her the importance she deserves both love each other to the sky. Bella had to leave india for work and even distances didn't bring any change in their love.... While she is in India and studying as we all have friends she also had a friend Jacob.! Jacob knew everything about Edward and Bella. Jacob was an Indian too and he was at his best character...simple and respectful! Bella shared everything good and bad with Jacob. When she was at work far from India one day suddenly her dad calls up and tells her that Jacob has asked in marriage for you and we all agreed now it's you who has agree.! Bella is completely shocked at this sudden proposal which she could dream from Jacob assuming that he already know that she loves Edward. Bella calls Edward to tell her what's happening and she gets to know that Edward had a huge accident but he's fine, Edward's parents out there in Iraq are being tortured by the army to surrender their next son to join forces! Edward's bro ran away from Iraq to Germany through oceanic way and the family doesn't know of he is alive or dead! So Bella doesn't think it was the good time to tell Edward about this and he would be more worried! She thinks to manage on her own...she reveals everything to her family about the relationship with Edward and family is completely against this. They without the consent of Bella spoke with Jacob's family and they are to be visiting Bella's home to fix everything about marriage. Meanwhile Bella talks to Jacob asking him why he did so...but Jacob has only sorry and I love you to say! He kept saying that their family wanted to get him Married and that very thought made him realize he will lose Bella forever so he decided to do this.... Bella's considered Jacob best friend and she is out of words don't know what to respond. She lost managing things on her own and the family now does that emotional blackmail to marry him or else they will die! She finally calls up Edward and tell him everything and the reason why she didn't tell him before... Edward loves Bella to the core he said if she will be happy then he would be too..he told Bella that if we were meant to be together they would be no matter what but killing parents and then getting together this way they can never be happy. Bella had to come back to india for the house meet with Jacob's family. But the interesting part is Jacob's family insulted Bella too much. They said she wasn't beautiful. They said they needed a normal girl who can stay back at home and look after you are too educated and you roam around the world all alone. You are poor and we are rich and respected people what will society say if we get a daughter in law like this and they rejected! Bella's family had to beg them to accept the marriage as now everyone knew that they came to their house for marriage fixing and if people knew that Bella got rejected it's hard to get her married to someone else. Bella comprised her work education everything for this. Jacob couldn't fight back his parents but he only keep telling Bella and her family that he would marry only her no one else. And asked them to give him one year time so that he will convince their parents! Bella's family accepted this. Now alllllllll of a sudden Edward is back to india. He actually left India after Bella came back. Very recently Edward is back and he spoke to Bella. He was quite angry about Bella just leaving her and going away. He miss her and also confess to her that he loves her so much but he would never come in between her and Jacob. Bella tried to love Jacob after coming back to india because it was the only option she had. She has to live life with him so she decided to move on when she hardly started to love Jacob and wait for his family...Edward is back... Edward is the heart of Bella...it tool an year to move on for Bella but now when he is back and she knows the fact that he still loves her...she is now in great trouble....Edward or Jacob? What you think is the best one for Bella and why! Bella decided to....she decided to talk to Jacob and tell him that this way she can never be a good wife to her..if god has decided Jacob for her then it would eventually happen no matter what but now she doesn't want to maintain any sort of relationship with him and save herself to get hurt in the end...and she also decided to confess to Edward that she would love to be his wife ...but she wouldn't be behind it and talk about it everyday...she told she'll tell Edward that she loves him the same way and live herself without any so called relationship thing until commitment period arrives... Bella's parents agreed to give Bella the freedom to do what she wants finally!
9 responses

• Bangalore, India
12 Sep 16
Honestly, i think she should NOT marry ANY one of them. Since the parents would never agree to marriage to Edward, she can't gamble her family for it. They should part mutually and peacefully. Jacob might be a nice guy but being from an Indian family, she will have to live with the parents too after marriage. If they can not respect her now....they will not later either. Bella needs to have more self -respect than that and let Jacob go too. Unless she is willing to gamble her own life trusting him to change his parents. (Personally....i wouldn't) Now about Bella's parents, Bella seems to be an educated girl, she needs to convince her parents that there will be other guys, not all girls get selected after the first proposal...nothing has happened yet, there is time to make another plan. Find other guys. This is obviously just my opinion....Bella has to live with the consequences of her decision, so she has to decide.

• India
12 Sep 16
Thanks for the suggestion I would make sure to convey it to bella

• Germany
12 Sep 16
What you've written here sounds reasonable. It's also important that it comes from an Indian woman. I'm German and can't give advice to Indians. I can only say that Jacob's and his family's behaviour is outrageous in my eyes. To plan marriage behind the girl's back! I can't believe it. But then I don't live in your country.



• India
12 Sep 16
Yeah finally she is the master to decide...but sometimes I guess taking advices really helps. .

• Philippines
13 Sep 16
@shaheena11
We can still give advice. This situation is too complicated since both parents were involved now. The other guy came into picture again.

• India
13 Sep 16
@Shavkat
yeah I could find that as too difficult... suddenly the one you love appears in the picture with some amount of love....hard to let him go...! According to me!


• Bangalore, India
14 Sep 16
Jacob may truly be in love with Bella, but he doesn't love her enough to sacrifice her company for her real happiness which he has always known is with Edward. He has been selfish to want her for himself when he knew very well that she would not love him the same way she loved Edward. And also, when a situation presented itself when his family insulted her so badly, he could not stand up for her and state her good qualities or make his parents realise that Bella is not so bad as they assume her to be. He just likes her as a property to own, if he really loved her then at least he would have showed his parents what a beautiful girl Bella is. Also, what is the guarantee that the entire family who hated her so much once, could start liking her and accept her as a member of their family, without knowing her as a person, without her personally spending time with them and making them realise that they were wrong about her...just based on the supposed "convincing" of Jacob. If Jacob really loved her then he should have 1st asked her what she felt about having a life with him rather than going to her family directly and making it impossible for her to refuse. He has played his cards incredibly well. And even in future he would care more about his own happiness rather than Bella's happiness. So a future with him doesn't look happy. Hence, a strict "NO" to Jacob And about being with Edward, Bella knew from the start that there are cultural differences, she was aware about the war conditions back home and despite all that difficulty in adjusting that could come up in future, she does feel that Edward is the perfect guy she could ever find and she had complete faith in their compatibility, no matter the differences or the distances, before Jacob messed it all up. If Jacob incident had not happened, then Bella would have continued to love and support Edward and wait for his return when he had disappeared from India. Am I wrong? Also Edward needs Bella's support in his bad times. Bella's family maybe against her being with Edward, but her heart can always be with him. When Jacob could tell his family that 'he would marry no one but Bella', she can do the same. She can tell her family that 'either she would marry Edward or she rather stay a spinster all her life, whichever is preferred by them'. Because whom ever she would get married to next, be it Jacob or any other guy, she would never stop comparing her relationship with her husband to the one she shared with Edward and feel sad about how imperfect her marriage is. P.S.: If Bella herself doesn't want to be with Jacob then he would eventually have to give her up and find someone else for himself. Hence, it would be better if she maintained full distance from him...to help him move on.

• India
14 Sep 16
You just gave a wonderful answer ...! I loved it...and hope you will be happy to know Bella decided to do what you just said!

• Bangalore, India
14 Sep 16
@shaheena11
omg....Did u show her my suggestion? I m definitely very happy to hear... God bless her with a complication free happy life...

• India
14 Sep 16
@sammyy
yes I showed her all the discussion...that is what I wanted to do!

• United States
12 Sep 16
Oh wow! That's quite a problem! Honestly, I would pick Edward because it seems that they are meant to be. Jacob seems to be more of a close friend/brother to her. Clearly she cares for Edward more because she was thinking of him so much. I understand that it's different in India. Parents seem to be stricter with who their children marry. Personally, I feel that certain things shouldn't matter. Like education, looks, etc. People worry too much about what others will think and then they are never happy. Bella needs to be with whoever she loves the most and whoever makes her happy, regardless of what others tell her.

• India
12 Sep 16
Awee...that's sweet! I thought no one would care to read a huge long story...but I would appreciate you guys read it and give quite productive solutions! Thanks for the suggestion honey!

• United States
12 Sep 16

• Green Bay, Wisconsin
12 Sep 16
Marriage is something that should be of the heart, and from what you wrote, she doesn't love Jacob, but she does love Edward. To me there is only one solution.

• India
12 Sep 16
I'm waiting to know what is the solution....

I'm so eager to know

• Roseburg, Oregon
12 Sep 16
She should marry the one that she really loves no matter which one it is. marry for love so the marriage will last.

• India
12 Sep 16
Marriage with out love would be hell ...that's true

• Hyderabad, India
12 Sep 16
I think it is applicable to Indians only.

• India
12 Sep 16
May be there are many more countries like India too...

• Jamshedpur, India
12 Sep 16
Based on so many twists and turns, I would say Edward is her man however its Bella's decision.

• India
12 Sep 16
I counted on 5 for Edward until now...I feel she would be happy to know so many yes for Edward...i guess that is what she wants to listen too


• India
12 Sep 16
I feel that too...but it's a true story...