Who would you take with you on Family Feud?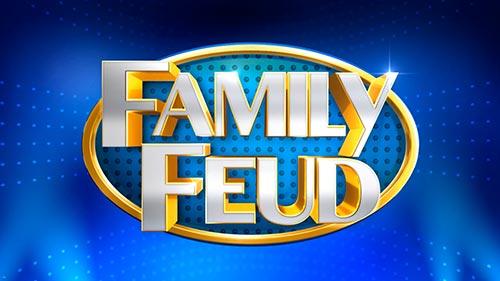 Perth, Australia
September 12, 2016 5:53am CST
I love watching Family Feud ( Aussie version ). It's one of my favourite shows to watch on TV. Which is a big compliment because the majority of shows on nowadays are so stupid! I often wish I could go on the show because I shout out the top answers a lot while watching it lol But then I wonder who I would want my 3 team mates to be. Need people who are quick to think and answer. Have you ever wanted to go on Family Feud and thought about who you'd take?
8 responses

• Gainesville, Florida
13 Sep 16
My brother and I used to be so great at guessing the answers on that show, so I definitely would take him! And then, I'd probably take my two crazy aunts, because they are so funny there's no telling what kind of whacky answers they'll give!

• Perth, Australia
14 Sep 16
@moffittjc
Sounds like it would be fun with you guys doing it together!


• Gainesville, Florida
14 Sep 16
@VivaLaDani13
Oh, and of course, I would take you as well! Since you said you're so good at the game! lol

• Perth, Australia
14 Sep 16
@moffittjc
YAY!




It's like what I told TR. If I was to pick from MyLot, it would be him, you and DJ!


• Banks, Oregon
12 Sep 16
Yes, it's one of my favorite game shows and, I guess my Mom, My Brother and, my niece Brittney.

• Perth, Australia
12 Sep 16

• Banks, Oregon
12 Sep 16
@VivaLaDani13
Yeah, especially if we won lol. From here though I would totally take you and, Scott, not sure who else, there is many great choices, maybe one of the Judy's, they know a lot of stuff.

• Perth, Australia
14 Sep 16
@TRBRocks420
aw sweet thank you! I'd love to have you as a team mate. In fact if I was to pick people from here I'd pick you, Jeff and DJ.

• United States
12 Sep 16
I would not go on the show BUT if you wish too is there a way to contact the network and get a ticket ?

• Perth, Australia
14 Sep 16
@enlightenedpsych2
I'm sure there is. Only thing is, as much as I want to, I'm also too shy lol Maybe when I'm more confident I will look into it.

• Otis Orchards, Washington
12 Sep 16
I've watched Family Feud but never thought about going on it. You do hear some crazy answers but if you talk to people who have gone on these shows they say it's nothing like sitting home shouting out answers. The lights, cameras, audience and pressure to answer within a time frame all play on you and you just don't think as rationally as you do sitting on your couch at home.

• Perth, Australia
14 Sep 16
@RichardMeister
That's exactly right. That's what I'd worry about. Things would be much different with everyone looking and hearing you.

• Hyderabad, India
12 Sep 16
I once watched the show very long back. But, not now.

• Perth, Australia
12 Sep 16

• India
12 Sep 16
If I have to then um... my 14 year old male cousin, (damn this is hard lol) okay so maybe Dad or my brother?

• Perth, Australia
12 Sep 16
@Daljinder
It really is a hard decision lol Glad I am not the only one thinking so. And good choices!

• India
12 Sep 16
@VivaLaDani13
I am still not sure of my choices. Friends I can choose like Vandana (she knows things and in depth), DE (information factory or human encyclopaedia or whatever) and you (since you seem to answer top answers) can go with me.

• Perth, Australia
12 Sep 16

•
17 Apr
@VivaLaDani13
DANI, that is an interesting question. I would have taken my cat but too many people frighten her so would take someone I know that knows a lot. I have not seen that in a very long time.

• Perth, Australia
17 Apr
@Hannihar
haha good answer! Made me laugh. But yes taking someone who is wise and quick to think on their feet is a good idea!

• Melbourne, Florida
13 Apr
I actually tried out for Family Feud in New York City. I had my daughter, her husband and my husband.. We had a lot of fun that day but when we were actually doing the show I got nervous and couldn't speak at times. Needless to say, we didn't make it. But we did laugh a lot.

• Perth, Australia
17 Apr
@ramapo17
aw no! lol see that is the issue sometimes. I know this is a little different but it reminds me of when I went to see someone famous. I had what I wanted to say in my head but once I got up close, I didn't say anything except a quiet "Hello."

• Melbourne, Florida
18 Apr
@VivaLaDani13
I have done that so many times to. I always think of things I should have said after we have gone. My husband will go up to anyone and talk to them but I get lost for words and turn bright red. I have had that happen so many times.