Feedback from my teacher about My Nan's Nails.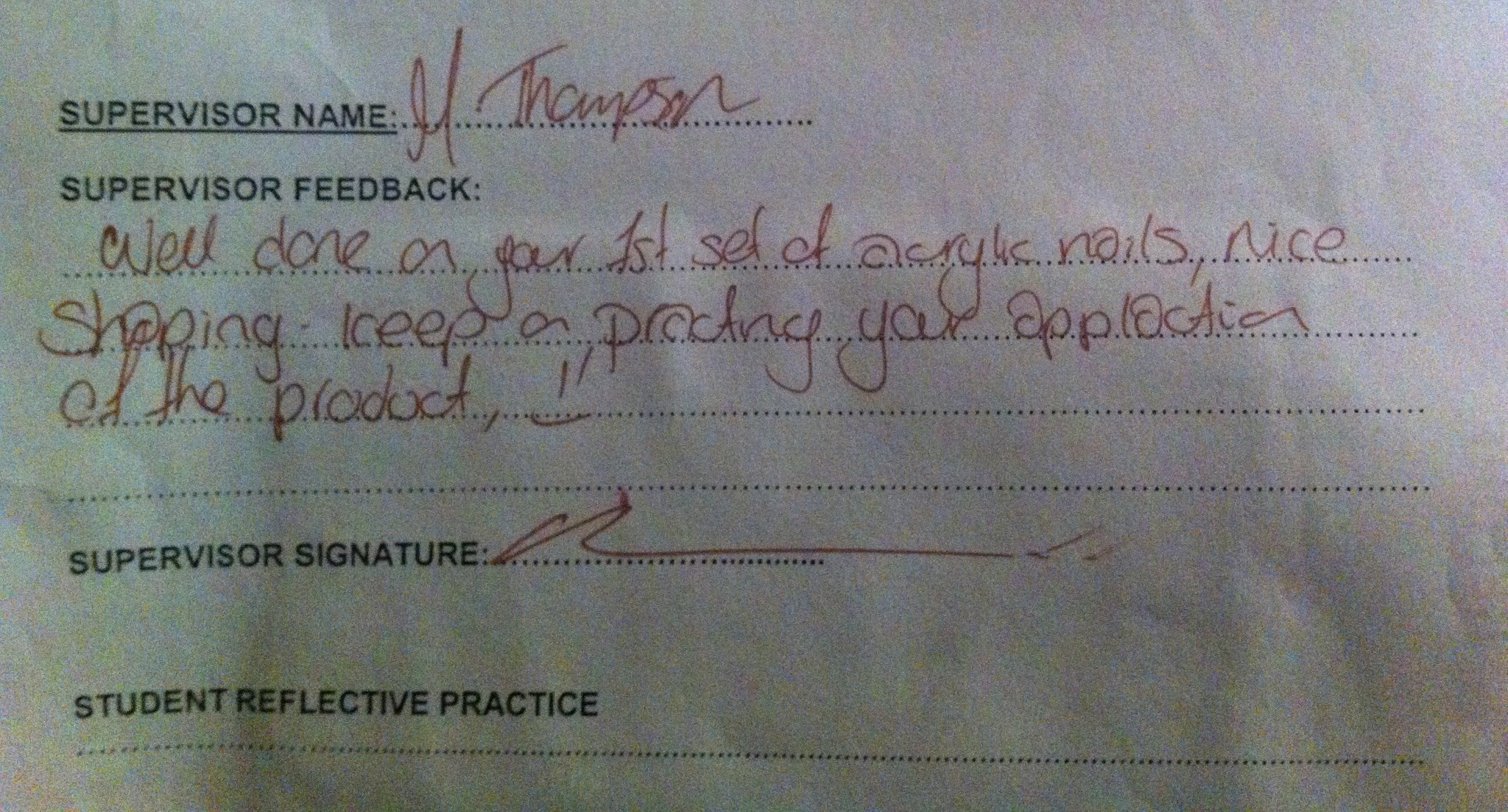 Perth, Australia
September 12, 2016 7:25am CST
Some of you would remember I posted before and after photos of my nan's nails from when I put acrylic nails on her. Well on Friday, I handed in my studnet log book so my teacher could look at it during the day. At the end of the day, I read her feedback. Which I have taken a photo for you guys to see. I will type it out just in case you can't work it out because I had a bit of a problem at first reading her handwriting. It says "Well done on your 1st set of acrylic nails. Nice shaping. Keep on practicing your application of the product." I was really please getting this feedback for my first attempt.

I do know that I need more practice. I wanted to do my friend's nails last night but it didn't work out to plan. Let's just say her punctuality is terrible!

Just happy with how things are going so far in my course!

7 responses


• Perth, Australia
12 Sep 16
@MALUSE
haha! Yeah I kept looking at that as well when I got my book back. Trying to work out if it really was a signature or just a random squiggle.

• India
12 Sep 16
@MALUSE
I have noticed that many of the bank employees, doctors, government officials or authority figures sign in the same way.

• Uzbekistan
12 Sep 16
@Daljinder
The show-offs abound. I was a teacher for 40 years. I have no idea how many school-reports I signed over four decades. I don't have a good hand-writing but I always wrote in a way that people could read my name.

• Canada
12 Sep 16
What a great response from your teacher. That must make you very proud. Keep up the good work. You will only keep getting better and better!

• Perth, Australia
12 Sep 16
@Happy2BeMe
It made me feel really proud as I have been stressing about it all since the first day lol Thank you so much!


• Perth, Australia
12 Sep 16
@skysnap
Yeah I seem to be doing alright so far. Hope I can do even better though!



• Perth, Australia
12 Sep 16
@MALUSE
Yeah I am wanting to learn ways to make people's nails beautiful. I love designing my own art and the idea that I could put it on people's nails makes me happy. Right now we are just learning acrylics and gels. As well as other things like diseases you can have in your nails / skin. Next part of the course is about manicures and pedicures which I am very excited for since I already know how to do all that. I would like to work in a salon one day but don't mind working from home for a little while. And maybe after I will learning massaging.

• India
12 Sep 16
Sara late again? Buy her a timer this Christmas from me, would ya? I will send you the money.

Big pat on your back for the good work!

I am reminded of Daz right now.
ME FIRST

because I knew it before anyone on myLot.

I have been trying to do a post since morning but you keep distracting me along with my little brother. At one point, I actually forgot what I was supposed to write about.

Don't worry! I finally did post it.

Next time I will put a post it note.

• Perth, Australia
12 Sep 16
@Daljinder
It was Sara alright.

She was meant to come Saturday. She said in the morning. Then she messaged me and said 12. Then messaged me again saying in the evening. Then messaged me again saying 7:30-8pm. Just before it hit 8, she messaged and said she couldn't come. Yesterday she was meant to come at 6. I messaged her during the day to remind her. She said "Yep I will defiantly be there at 6 or knowing me, 6:30." Around 6:40 she messaged and said she would be at mine soon. 9:30 DJ! 9 friggen thirty! And by then it was just too late to do anything. I remember years ago, I wanted to see her for her birthday. We set a time for her to come around. 6 hours went by from the time she was meant to come and turned out she went out dress shopping cause she forgot about hanging out with me. Her being late is very common as I know I've already told ya. lol DJ WAS THE FIRST!!!!!!!!

Speaking of Daz, I am literally craving for a new video. I have been checking it like every half hour. I know he wasn't even home yesterday but don't know when he comes back but just dying for something new to come out. LOL sowwy!


• India
12 Sep 16
@VivaLaDani13
um... how about tell her not to bother? Just say that you don't need her anymore for nail practice. Not in anger but with certain assertiveness. She should at least know that you are NOT okay with the way things are. Remember you are taking over your life. That thing is still on right? Okay then watch this one lol

This is Guts and glory and is kind of like happy wheels in 3d. PO Box: Suite 57, 2 Mount Sion, Tunbridge Wells, Kent Tn1 1UE Follow Me: Twitch: http://ww...

• Perth, Australia
12 Sep 16
@Daljinder
I almost did yesterday night to be honest but yeah from now on, I wont ask. Even though I really did need her hands! It sure is still on! ah yes LMAO I saw that one! It actually surprised me when that blade got him at first. OH OH have you seen the one where he had a pet chicken? Let me know if you haven't! I will find it for you! Although for some reason I feel like you have.


• United States
13 Sep 16
Great feedback by your teacher, glad everything is going well with your courses. :)

• Perth, Australia
13 Sep 16

• United States
13 Sep 16

• Perth, Australia
14 Sep 16


• Otis Orchards, Washington
12 Sep 16
That's good. Glad things are going well with your course.

• Perth, Australia
13 Sep 16
@RichardMeister
Thank you!


• Otis Orchards, Washington
13 Sep 16