My adorable mom.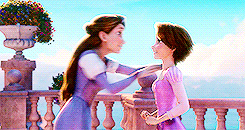 Bangalore, India
September 14, 2016 12:31am CST
My mum is a woman with childish, sweet innocence. When she gets frustrated it is adorable to see her fume and even more cute to console her. She pours her heart out to me always, and cries like a baby when someone hurts her. Sometimes I feel like I'm her mum and she is my child.

She works all day to feed us all, keep the kitchen clean and all that, and at the end of the day doesn't get any acknowledgement at all, instead gets ridiculed at for not being too smart. Little consideration is given to the fact that even she is a normal human being who gets hurt by their nasty and cruel words.


I'm the only solace she's got as of now, she worries about the day I get married and go away, for she would become lonely. But I hope my younger brother matures enough to take up the responsibility of being considerate and keeping her happy. Even now he is, but he too has his phases of idiotic rudeness, quite too often.

So she likes my company more. So much that if I tell her I'm going out to meet friends or something, she starts feeling sad that she will be alone for the rest of the day. Or when I tell her I'm going to sit and study or watch a movie for the next couple of hours, even then she can't stop herself from coming over and interrupting, talking to me about anything and everything.

I must confess that I too have been an idiot at times, shout at her, snap at her or something that sort, but the next minute my anger cools down and I regret my mistake.

But the best part is her anger cools down in minutes as well. Within 10 minutes of our fight we would be back to normal, as if nothing happened. She has this odd thing, she always...ALWAYS wants me to check her cooking, while it is still in process. And I'm too lazy to move my bum and go to kitchen to have a look (...like RIGHT NOW

). I tell her, I'm no expert and cannot distinguish much between tastes and yet she has complete faith in me and just wants me to check and tell her everything is OK. That gives her some strange satisfaction. Yes, I'm too lazy and, at times, adamant too. I don't help her sometimes when she is too tired, just because I don't want to leave what I would be doing at that time (but there are times I do help her...not like I'm always lazy

). Despite that she likes me.

I'm too scared, of this level of emotional dependence she has got on me. As a matter of fact, I do not like anyone depending on me for anything. It hurts to let go and leave when the time comes. In fact, until a few years ago I tried to maintain distance from her by being rude or not being of help at all, on purpose. Just to avoid attachment, because I knew I had to get married and separate from her someday. But I could not take it anymore. I knew no one was there for her, at least I should be there as much as i can, and for as long as I could. To hell with whatever happens in future. You cannot always be there, in the same way like you are at present or have been in the past. I know, with the world of internet and phones I can always keep in touch with her, but its nothing like living with her all the time, right! I really hope she copes well with my absence, when I'm gone someday. And I hope, I will remain a good daughter to her always.

4 responses

• India
14 Sep 16
That's so sweet you love your mom so much! I n my mom had a long communication gap until I was 20. But now she is a best friend to me. I feel comfortable to talk to her than any other friend. She is the best woman on this earth. Love her!

• Bangalore, India
15 Sep 16
Thank you...

Same here, communication gap until 20....i was so cranky, i would not even let her touch me lovingly or even absentmindedly. But although we are close now, somehow I haven't got the guts to hug her until now. Probably on my wedding day, I would.

I know its ironic that the Gif of my article shows mother-daughter hugging.

• India
15 Sep 16
@sammyy
hey just get up now go and hug her! Don't wait for your wedding day! May be if you do that today you will have many chances by then...!

• Bangalore, India
15 Sep 16
@shaheena11
yeah but there is no much physical affection shown in conservative families like ours... Feels odd

• Bunbury, Australia
15 Sep 16
She sounds a wonderful mother. She is lucky to have your support.

• Bangalore, India
14 Sep 16
This is almost like my relationship with my mom too....though there are a few diffrences....like i do not intend to get married. ...and my mom would not cry if she is upset....her anger could bring the house down...lol.. I like you already, seeing the amount of love and respect you have for your mom.

Sometimes it is us daughters who can hold the emotional state of the family and keep it happy and peaceful. Even if it goes unnoticed by everyone but our moms.

• Romania
12 Mar 17
My mother is a wonderful woman. She takes care of the whole family and always makes sure that we are all healthy and happy. All day long, she stays in the kitchen and cooks, hoping to prepare enjoyable meals. The house is so tidy and clean, due to all the effort that she puts in cleaning it. Whenever one of us is sad, she is always by our side. She is the kindest person I know. I don't know what we would do without her.