The European Union.. is Brexit the First?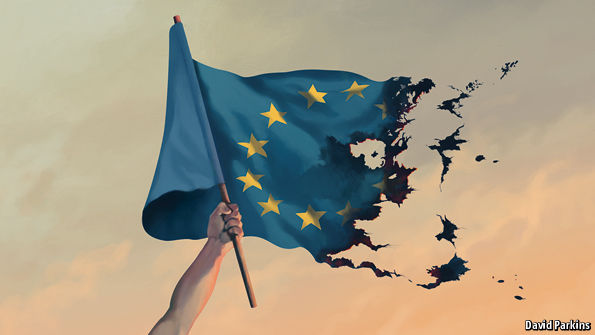 Kingston, Jamaica
September 14, 2016 9:07am CST
There are many of these 'trade deals' in various parts of the World; in the Caribbean there is 'Caricom'... which caused losses to the richer islands and windfalls to the smaller. The difference between the E.U and Caricom is that no one tells the members what their politics and policies should be. Well, let me rephrase, you can run up your mouth but no one is going to listen. The interference in national sovereignty is never attempted. The biggest arguments might be over Cricket; (which player on the West Indies Team should have sent in) and over the treatment of Jamaican nationals in Trinidad..(which should lead to a boycott of Trini goods...EXCEPT that many Jamaican companies have gone to T&T to set up businesses. What shocks me with the E.U. is the mindless demands of how many refugees each member MUST take. Firstly, what always knocks me is that Muslims want to go to Christian Country. Think of it. They don't try to go to any Islamic nation anywhere in the world. Whether Azerbaijan, Bahrain, Gambia, Iran or Indonesia. Nope. They want to go to Christian German, Christian Austria, Christian U.K. Secondly, all nations have their rules and regulations about immigration. Even if one is just a little island in the Caribbean you can't just walk in and ask for asylum. And no other country should tell this country who to accept and how many. Thirdly, it always seems kind of 'knee jerk' that if I go to your country I have to live by your rules and your laws. I can't walk in and tell you to conform to my culture. So here were 28 different countries, each with their own history, own language, own culture who came together for Trade deals and closer relations. And all of a sudden, they are being Told how many migrants from Islamic nations they have to accept. Their rules, their laws, their societies are kicked to the pavement, and demands are made. The U.K., which never was so much into 'integration' into European culture, has left the E.U. No one can order the U.K. to take migrants now. Hungary is not going to take any migrants. Other nations are beginning to question their involvement in the E.U. for if Brussels can order laws concerning immigration to be abolished, what else?
3 responses

• United States
14 Sep 16
The USA has certainly suffered regarding immigration. So, those who fear the fallout from immigration will vote for one candidate, and I have no idea why anyone would vote for the one who will bring in massive numbers.

• Kingston, Jamaica
14 Sep 16
The question is a bit more complex. In old days, immigrants came and assimilated... maybe only in public, but they didn't demand the whole country agree with their beliefs. The immigrants now demand American culture change to please them.

• United States
15 Sep 16
@tallawah
So true. That makes for a lot of dislike for those immigrants who make those demands.


• Hamburg, Germany
14 Sep 16
People in UK never felt the benefits of Europe : we have no more borders inside the EEC (UK had rejected Schengen agreements and kept its borders), we have Euro and do not need anymore to change money when we go in a foreign European country (UK decided to keep the pound)... I would never go back to the past, and except a minority of noisy far right parties, nobody wants to go back. For UK people, I think that the Brexit is a deadlock, and their politicians are not in a hurry to leave the EEC, but I also think that the Brexit is a luck for the rest of the EEC : UK never played the game, and was blocking many things. Yes, each state has to abandon a part of its sovereignty, but it is decided together, so where is the problem if it leads to something better for the citizens ?

• Kingston, Jamaica
14 Sep 16
The points you make are very good; but... who decides what is better for the Citizens? Many issues are subject to debate among the citizens. It is bad enough when you have a really hard fought issue among citizens, now you have an outside force looking for what is best for the EU not for France. The immigration things has caused its issues. France has suffered a lot.. if the French feel they don't want any more immigrants... should they be forced?

• Hamburg, Germany
14 Sep 16
@tallawah
France has always welcomed immigrants, and they contributed a lot to the richness of my country. The Muslim terrorists we have today are mostly French (except the one in Nice : he was Tunisian but his wife was French), so it is not a problem with immigrants but with radical Muslims. There is a freedom of traveling, living and working in any country inside the EEC for a citizen of another EEC country, and it is what the Brits are rejecting, but they forgot when they voted for the Brexit that 2 millions of British citizens are also living in other European countries... UK has always wanted the butter and the money of the butter inside the EEC, and it is impossible : they will not keep access to the single trade market if they refuse to other Europeans to live in their country. And what would they do without the single European trade market ? For the moment, all I have seen is that they will have a free trade agreement with Australia, and perhaps one with Canada. They will not go far with this. Actually, I am not even sure that the Brexit will happen : they are still a full member of the EEC, and maybe they will never leave.

• Serbia
14 Sep 16
I hope that it is not and that EU will not fall apart, we need our country to get in European Union fast as possible.

• Kirkwall, Scotland
14 Sep 16
I can see many of the larger countries leaving the EU as they pump money in - and the smaller countries take it out. In return, the larger countries just get red tape and nonsense laws and regulations thrown at us. Many people are fed up of paying tax so smaller countries can have a free hand out!