Going to the Veterinarian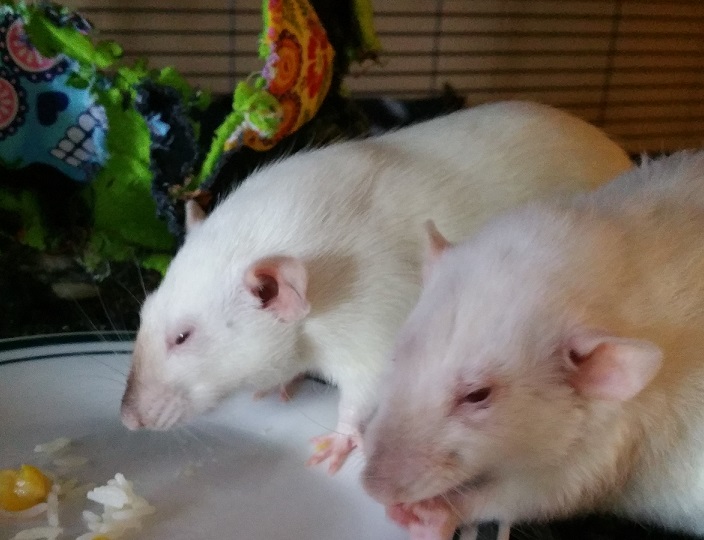 Canada
September 15, 2016 10:46am CST
I am currently getting ready to go take my girls (pet rats, Nym and Ari) to the vet. They both have small tumors, which will more than likely need to be removed via surgery. Tumors are very common in rats, and I have had them as pets for many years so I know that this is something I will have to deal with. Nym has previously had a tumor removed successfully, but Ari has never had surgery so I am a bit scared for her. Anyhow, my vet is great and has performed surgery on many of my previous rats, all successfully. I know they will be in safe hands with her. We will probably have to schedule the surgery for 2 weeks from now as I can't get any time off work until then. Have you ever had your pet get surgery at the vets? (PS. If you have anything rude or negative to say about my rats, don't bother. If you say anything against my girls, you will be blocked and deleted. They are like my family.)
9 responses

• Canada
15 Sep 16
Wishing them both well if they need to go through surgery. I had a cat once that had surgery to have a tumor removed.

• Canada
15 Sep 16
Thank you so much

We just got back and it looks like only Ari will have surgery for now. Nym's may not even be a tumor, but a fat deposit which would not be dangerous if that were the case.


• Canada
15 Sep 16
@MissNikki
Well I wish Ari well and hopefully Nym is just a fat deposit.

• United States
15 Sep 16
I know you love your gals and want what is best and seeing as they are very hearty animals (rodents ) perhaps alkalizing their blood and body fluids by feeding them strictly alkalizing vegetables like celery, asparagus, apples (and the seeds) will keep their pH above 7 to ensure the acidity is neutralized so no more cancer can survive. Are you sure the tumors are malignant or are they benign ? I want to help Nikki
@MissNikki

• Canada
16 Sep 16
There is no way of knowing if they are benign unless we do expensive tests which I cannot afford. I have had surgery done on rats in the past and it was always successful. I will give them lots of those healthy foods, Erica! They also eat a lot of red grapes and blueberries as they are full of antioxidants. From what I understand, apple seeds are not good for rats, however they can eat the apples!


• United States
16 Sep 16
@MissNikki
there is a way but I private messaged you . . . erase once read though please

• United States
15 Sep 16
Well, the only surgery our pets have endured is spaying and neutering. Hope all goes well for your girls!

• Canada
15 Sep 16
Thank you very much Deborah.

Looks like only Ari will be getting surgery for now. Booked it for 2 weeks from now.

• Riga, Latvia
15 Sep 16
Actually I think your girls are adorable
@MissNikki
I know my cat Sid would probably disagree but hey, what does a cat know

I wish Nym and Ari the very best and hope they recover with flying colors. None of my pets has ever had to have surgery.

• Canada
15 Sep 16
Thank you Sandra

The girls think you are adorable too! Hehe. Hello and hugs to you and Sid!

• United States
15 Sep 16
My friend Morgan is a twin and her name is McKenzie & they have two pet rats as well. They are named George and Fred. She thought she was going to have to put George down because he has a tumor on his belly the size of a gold ball. She took them to a different vet about a week ago and got a second opinion. This vet told her there was no need to put him down just yet and gave her some more antibiotics to give that might help the tumor stop growing and ever shrink some.

• Canada
16 Sep 16
I'm glad she got a second opinion, however from what I know of rats and medicine, antibiotics will not shrink a tumor. If the rat is young and healthy it should just have the tumor removed. Tell your friend to look for a vet that specializes in exotic animals. Although they might not seem like exotic animals, that's what rats are considered as in the veterinary world.


• United States
16 Sep 16
@MissNikki
She already has. He is an old rat that is why she was considering putting him down if he was in pain from the tumor, but they told her he was fine for a little while longer.


• Canada
15 Dec 16
It did go well - was quite awhile ago now. They have to have a check up in the new year.

• Charlotte, North Carolina
5 Oct 16
These tumors are a concern for me. We have a dog with various lumps and bumps. The vet said they are not threatening, however most would remove them. We won't do that now b/c it is not a serious issue. We are using filtered water and expensive food for all of our pets to avoid health issues. Not sure what works!

• Canada
5 Oct 16
Yes, in rats too a lot of the tumors are most often benign, but grow fast and can become annoying and hard for them to carry around. Ari goes in for surgery tomorrow! I hope your dog is doing okay


• Perth, Australia
3 Oct 16
@MissNikki
I'm sorry about your little sweethearts! I hope everything went well! I have taken my cat once but I don't remember why. Main thing is she is healthy. Sleeping at the moment of course lol it's what she does best.

• Canada
3 Oct 16
We are taking Ari for surgery this coming Wednesday so I will send her your best wishes



• United States
29 Sep 16
Good luck with your rat friends!