Where do you like to buy the vegetables?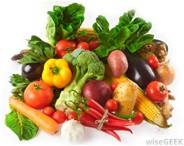 Guangzhou, China
September 17, 2016 8:27pm CST
Most of the time I will buy the vegetables in the market rather than supermarket. As I think the vegetables are fresh in the market. And the supermarket vegetables are less choice and they are also much more expensive. Especially they are not fresh.
5 responses

• Singapore
18 Sep 16
Over here, the price difference is not that great, and the vegetables are not that fresh anyway. Since we import more than 90% of the vegetables, fish, meat and eggs, we cannot find farm-fresh produces easily. Those vegetables in the market and supermarket are as fresh as technology allows. At least they are kept in cool temperature, and air-flown from other countries to Singapore.

• Singapore
18 Sep 16
@youless
We have a lot of markets in the housing estates. Sometimes the markets are next to hawker centers where you can have cheap and nice food. Tourists do not come to housing estates, because these are non-air-con, and usually there is nothing much to see or do.



• Boise, Idaho
18 Sep 16
We try to give the fruit stand up the road our business. They have good produce and good prices.

• Boise, Idaho
18 Sep 16
@youless
....And the young guys who run the place aren't very hard on the eyes.



• China
18 Sep 16
My wife prefers buying vegetables in super market where they are much cheaper than the market.However sometimes she buys them from peasants' pitches,because she considers them to be fresh and organic vegetables.

• Roseburg, Oregon
18 Sep 16
Here the farmers market charges more for their fruits and vegetables. They are cheaper in the store.