Annoying night but it's done. And got feedback from teacher.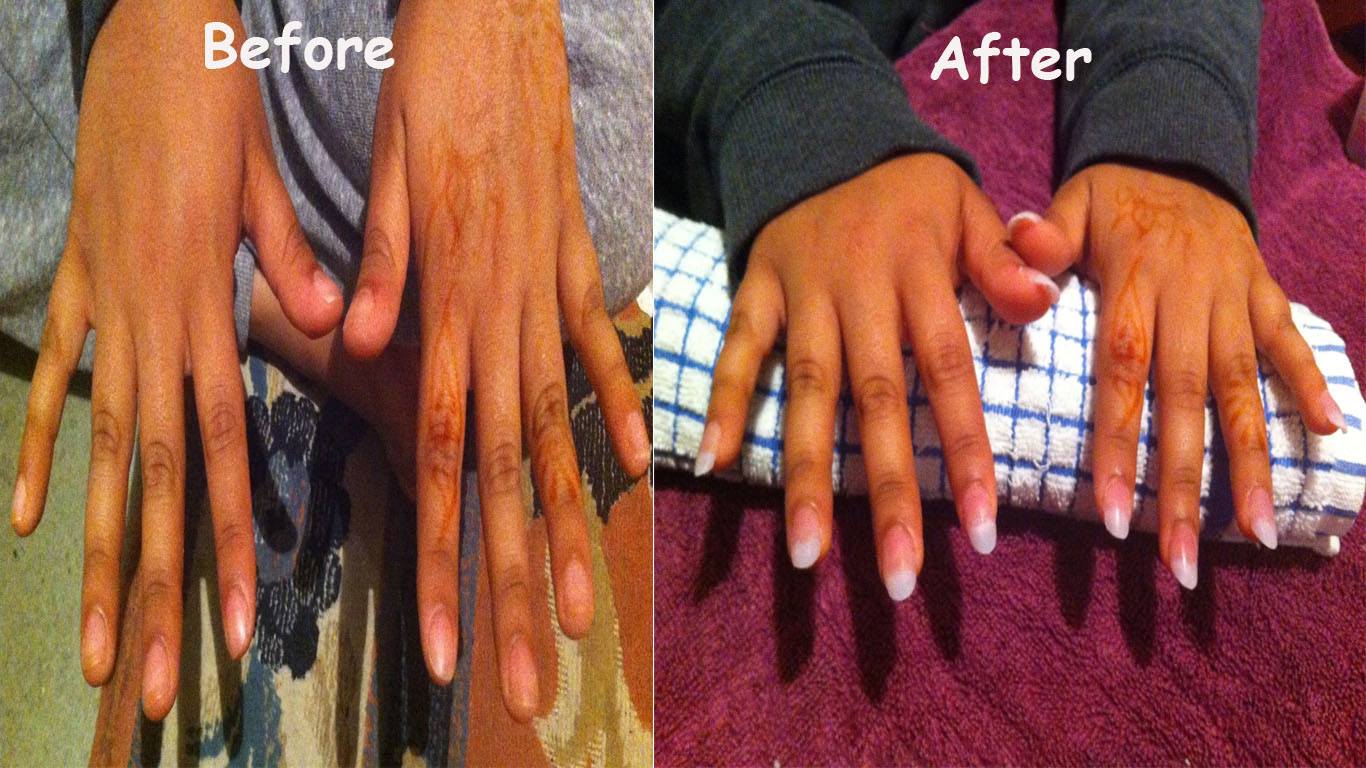 Perth, Australia
September 19, 2016 12:40pm CST
First of all, thank you @Daljinder for sticking the before and after photos together since I have no idea how to. So these hands belong to my friends sister. After so many cancellations by my friend, I was happy to have got this done for I needed it for my log book for my course. But what a night! My friend was 40 minutes late. Which I am used to but was kind of fed up with waiting that night since I'd been canceled on 3 days during the week but multiple times during each of those days. ( she kept changing the times ) Then while I was putting the fake nails on her sister, I accidentally knocked the container over which caused them all to fall out so had to put them in the correct places ( the nails are numbered ) very time consuming. Then my friend said she would hang on to them. "I will hang on to them for dear life." Not even a minute went by and she accidentally dropped them too. So we went through the process of sorting them out again. Then while I was filing and blending the fake nails into the real nails, my friend kept on snatching the files out of my hands so she could use them. Being playful of course but I wasn't in the mood. Doing acrylics takes about 2 hours. I was already tired and didn't want it to take way longer than it should. But anyway it's all done. I did it! I handed in my log book the next time I had class. And the feedback I received was: "Good effort. Good shaping too. Keep on practicing your application to gain a good C curve & strength to the nails. Some good blending shown. Well done. :)" So I know I need more practice but I am still happy with the feedback as well as filling in my log book. Also, she really loved her nails which made me feel good. Her mum also wants me to do her nails lol And apparently she is against acrylics so this made me feel even better!
8 responses

• Daytona Beach, Florida
19 Sep 16
@MvalaDani
great job. Better you than me. I could never do that I know it.

• Perth, Australia
19 Sep 16
@RasmaSandra
Thank you! lol I'm sure you could. Just takes patience and a steady hand really.

• India
20 Sep 16
@RamaSandra
I know right? It looks easy but it is not.


• India
20 Sep 16
@VivaLaDani13
I don't have patience and steady hand (?) History dude! Ancient history. It's practically extinct!



• Dhaka, Bangladesh
19 Sep 16

• Perth, Australia
19 Sep 16

• Dhaka, Bangladesh
19 Sep 16

• Perth, Australia
19 Sep 16


• Banks, Oregon
21 Sep 16
That does sound annoying, but good work though


• Perth, Australia
21 Sep 16
@TRBRocks420
Thank you dude.



• United States
20 Sep 16
It looks gorgeous, well done you!!

• Perth, Australia
20 Sep 16
@BelleStarr
Thank you SO much!


• Perth, Australia
19 Sep 16


• Perth, Australia
19 Sep 16
@sishy7
Thank you! I think I have 11 more weeks....maybe...I will have to check. I can't remember but I do finish before Christmas which is awesome. Even more awesome if I pass!

• Australia
19 Sep 16
@VivaLaDani13
I hope you will pass and get to work with your skills... I've seen those nail shops and they're always busy with customers...


• Perth, Australia
19 Sep 16
@sishy7
If I don't pass, then I will just try again. I will be a bit upset if I don't pass this time but like my friend said, doing the course again would only make me better at it!


• India
20 Sep 16
Your welcome! I could have taught you "how to" but oh well...

Question: Why the sister and not the friend? Didn't friend was the one to have the acrylics done on? Or do I have it wrong? Anyway what a night!


• Perth, Australia
20 Sep 16
@Daljinder
I don't really understand why. Sara kept on saying "I want mine done." As I was doing her sisters. I just looked at her and said that she had the chance. And she said "But my nails are crap." Which I still don't understand because that's sort of the point of fake nails. To make them look better than they are. Sara doesn't make sense sometimes and I was too tired to figure it all out lol

• India
21 Sep 16
@VivaLaDani13
Sometimes "No" means "Yes" but it's unknown when it means that way. Girls are so confusing. That is why I don't date them.



• Perth, Australia
21 Sep 16
@Daljinder
LMAO!



• Canada
5 Oct 16
Wow, they look beautiful! I think you did a great job!

• Perth, Australia
7 Oct 16
@MissNikki
Thank you very much! This makes me feel good!


• Canada
7 Oct 16
@VivaLaDani13
if you lived close to me I would let you practice on mine!!

• Perth, Australia
10 Oct 16