Aurora Borealis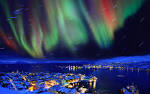 India
September 21, 2016 3:26am CST
Magnificient view of nature.I never seen the same, just heard or read about it. It happens roughly over a period of 11 years.It is due to the collission of gaseous particles of earth's atmosphere with charged particles of sun's atmosphere. It can be seen in variety of colors but pale yellowish green is common. I always wonders on the beautiful phenomenon of nature.
7 responses


• Garden Grove, California
13 Oct 16
I saw it three times when I llived in Siuth Dakota in the winter time very beaufulk in deed

• Philippines
23 Sep 16
I have already seen one in my childhood days , when my mother and her friends would take me to attend a very early morning mass at 4:00 a.m. And we saw it . It was beautiful .

• Philippines
22 Sep 16
It's nature that's for sure, I don't see much of it here in my country except rainbow after rain.

• Australia
21 Sep 16
Mother Nature is awesome!!


• Philippines
22 Sep 16
up in the cold continents like in Alaska, i thought the Borealis is a phenomenon that comes out every night and i don't think it comes out every 11 years?

• United States
17 Jan 17
I would LOVE to see this in real life! It looks amazing! :-)