Mail Call - 09/21/2016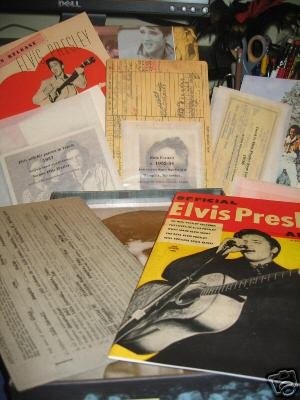 Jacksonville, Florida
September 21, 2016 4:27pm CST
Someone who knew that I loved Elvis Presley, purchased this box of Elvis memoralbilia. They never opened it, and decided to give it to me instead of letting someone else have it... They said it came directly from Graceland. It is exact replicas of items that came from his career, and/or that he actually had in his possession at one time in his life. Again... Everything contained inside this box was never opened, and/or used in any way, other than to briefly look at them. Some of the pieces are in marked envelopes. According to history... This set was sold in 2001, and is no longer made. So this in itself is a collector's item for me. Now... None of these items are ever going to be worth more than what they were probably purchased for... Unless, some worth can come out of replica's that are no longer made. But just to have some artifacts to look at over the years, really means something to me. Included in the box were: *01 - Colonel Tom Parker's Fan Club Membership Card. *02 - 1956 Elvis Portrait. - 1952-54 (Elvis attended Humes High School in Memphis, TN) *03 - Picture of Elvis with his parents in Tupelo 1937. *04 - Paystub for Elvis Presley from Precision Tool. (Received $62 for 40 hours of work.) *05 - 1954 Check to Elvis from Colonel Parker. (The check was a $5,000 advance for a concert he was holding.) *06 - 1956 Elvis Presley 3rd grade report card. - Believe it or not, he was a straight "A" student! *07 - A job application card for employment. *08 - One application for Liability Insurance for his two cars. *09 - A postcard...Seasons Greetings from Elvis, the Colonel and Friends. *10 - A reproduction of an actual photo of Elvis. *11 - One Press Release. *12 - Official Elvis Presley Album/Book about his life story. *13 - One Fairground hand bill/poster. *14 - One page biography. *Bonus pack: One box of "Ask Elvis" picture cards. Everyday that I wake up... I am learning more and more, how even the little things that make us happy, God cares about...
4 responses

• United States
23 Sep 16
How cool! My mom is huge on Elvis so I have kept her up on collecting over the years. We made a whole Elvis birthday for her. Then another lady at church is big Elvis too so this past weekend another lady at church put together a big Elvis party for her for her and her hubby's 50th anniversary. I was an idiot and didn't even think of getting any pictures!

• Jacksonville, Florida
23 Sep 16
Oh no!!! No pictures? Sad....


• Canada
21 Sep 16
That is wonderful. What a great gift for you.

• Jacksonville, Florida
21 Sep 16

• Toronto, Ontario
21 Sep 16
looks like a good haul for the mail day

• Centralia, Missouri
23 Sep 16
I am glad you got such a nice fun treat package there, those sorts of things help bright light to the darker days

• Jacksonville, Florida
23 Sep 16