Have you ever participate in a Marathon run before ?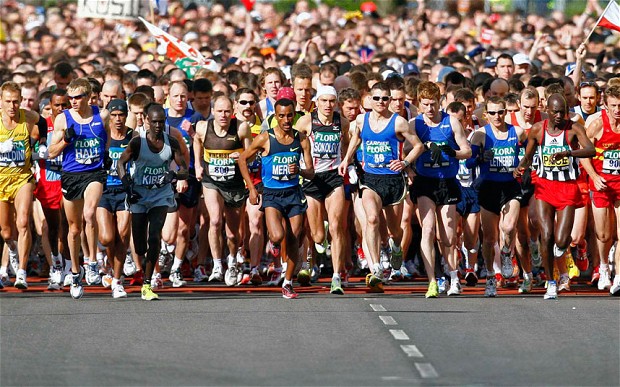 Hong Kong
September 22, 2016 6:59am CST
We have Marathon in Hong Kong every year but I have never joined in before. Why ? I don't think I can finish such a long run anyway. Since I know that many countries do have it in this world, and I hope you can share with me about the experience in your country, Have you ever run in such a special race before ? If yes, have you face any difficulties during the run ? Share with us ?


7 responses

• Perth, Australia
22 Sep 16
@wildlittlefan

No. No. I haven't. I do like the idea though of running and completing a marathon. I think that would be a great achievement. But for now I'm just going to sit on my lounge fighting the urge to even walk to get a drink from the kitchen let alone run anywhere.


• India
28 Jan 17
@VivaLaDani13
Moi and run? I much prefer dancing. I don't do that either anymore. But I had the urge many times. I feel self conscious that I will look stupid dancing.


• Perth, Australia
29 Jan 17
@Daljinder
So do I. That's why I do it alone whenever I can so no one can watch me.

• India
29 Jan 17

• North Myrtle Beach, South Carolina
22 Sep 16
We have lots of marathons here but I have never participated. If you see me running, it means someone or something is after me, so you better start running too.


• Shenzhen, China
20 Dec 16
I started running 6 months ago and now I keep running around 200 kms per month. I'm planning to join in a marathon race next year, coz now I can only finish half-marathon. While it's not as difficult as what you think, just get started from 1km, then 2km, increase the distance gradually and someday you'll find yourself much more powerful. Remember, make it gradually, don't try to run too much or too long before you have enough experience, otherwise you'll get hurt.

•
23 Sep 16
Haven't participated in a marathon in the past.


• United States
22 Sep 16
I have experienced a marathon of the runs, and it was difficult


• Bangalore, India
22 Sep 16
@wildlittlefan
well I like such marathon but it needs a lot of stamina. One of such a marathon I remember was participated by many celebrities especially those fitness icons like Milind Soman in his 40s.