ASK before you assume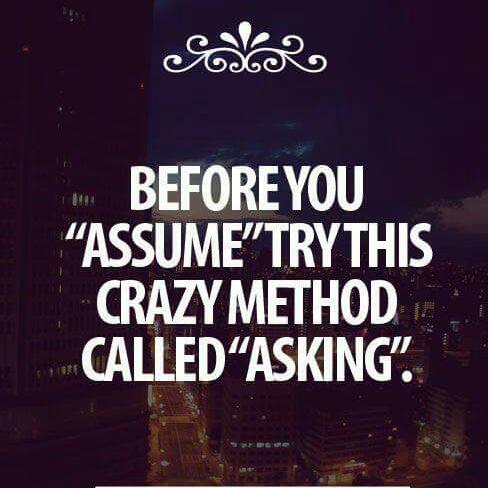 India
September 22, 2016 11:29pm CST
'Before you assume try this crazy method called asking'

May be it's not actually that crazy after all. I just want to scream the above written quote on top of my voice because people around me are just assuming things for which I would end up facing consequences. Can't we just take a minute to walk to the concerned person regarding it and ask it out before we just assume things and proceed on?

Ps- I don't really know whose quote it is for citing.

6 responses

• Singapore, Singapore
23 Sep 16
i don't understand what is so difficult about asking instead of assuming. i have people who assume..





• India
23 Sep 16
Yeah so much drama and complications for rest of us to deal with...

• India
23 Sep 16
@Bella27
Absolutely. Assuming is the mother of all rumours...