A kindergarten in a nursing house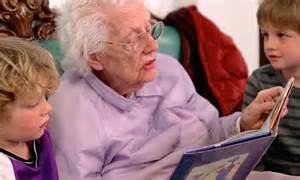 Guangzhou, China
September 25, 2016 8:53pm CST
I think it is a great idea that a kingarten in a nursing house. As the elders will be happy and energetic again. They are willing to play stupid games with children. And usually the elders will be patient and they have a good knowledge. And the children will have the sympathy. They will be much more understanding and helpful.
7 responses

• Oxford, England
26 Sep 16
I think this is a good idea. I worked as an activity coordinator in a nursing home for a while and events with children were always fun. Children's games are not stupid though.


• Roseburg, Oregon
26 Sep 16
The kids would learn a lot from the older people and it will keep everyone learning.

• Switzerland
26 Sep 16
In Sweden, the high school students can rend a room for free in a nursing house, if they spend at least a couple of hours a day interacting with the elders. I think that it's also a great idea, may be even better than a kindergarten. Too young kids can sometimes become a problem.

• Hyderabad, India
26 Sep 16
so everything goes perfectly with their health. This is a good observation.