Reaching Out Kids For God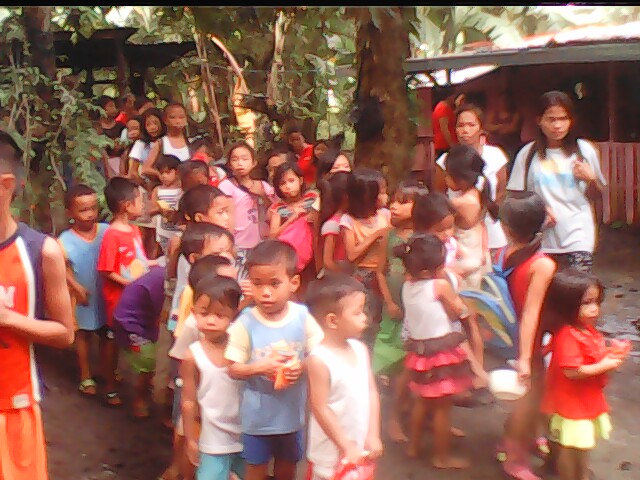 September 25, 2016 9:41pm CST
Yesterday was a Global Day of Service in its 7th year. Actually it was my first time to experience this event and it was a vey great experience. We went to a remote area where there is no electricity and water. We went there with gifts and foods carried in our backs and hands. What is more exciting is that from the main road, we walked for almost 1 kilometer with a very heavy gifts carried and walked through a very muddy road. But still those troubles that we get through have nothing than helping those kids in that area. We saw their smiles in their faces as we arrived there. We do some dancing and singing praises for those kids. We went home with a smile in our faces and a lesson we get in that event. We get back home again walking on the same road but with less baggage since we already gave it to the children. We have really fun. :D
6 responses

• Philippines
26 Sep 16
I admire you for joining this volunteer works to give those children cheers . I congratulate you for that . Keep it up , my friend .



•
26 Sep 16
Thank you very much. Well, it is very happy and it gives smile in our hearts to help those kids. :D

• Philippines
26 Sep 16
@richjohn07
Yes, i know it will be a very happy and also fulfilling thing to do .

•
26 Sep 16
I am sure the kids loved it. This is the way they learn to be with others and love others.

•
26 Sep 16
Exactly. We found happiness in them. :)

• Sutton, England
26 Sep 16
This must have been very rewarding to do.

•
26 Sep 16
We don't expect on returns. We are happy on what we are doing. :)

• Sutton, England
26 Sep 16
@richjohn07
By rewarding I didn't mean any financial or material gain, Rewarding can mean being happy that you have helped others.

•
27 Sep 16
@Gillygirl
oh yeah. :D sorry for that. It is really happy to help.


•
27 Sep 16
Yup. That's why I am still thankful even if I don't have everything yet I can still help to those who have nothing at all

• Hyderabad, India
26 Sep 16
You are from which country? I think people are being exploited everywhere by their Administrator without any partiality. Even in India, in these days of development in Technology and Science, we still got many villages which are highly backward and are lacking minimum facilities. We do not permit them if they build roads and buildings for themselves and in the name of Democracy introduce the elections system to chose their leaders on their own. But he will at any time be in a position to represent the grievances of his people in the locality and even if brings we show scant respect for them. Keeping the people not to move forward and not taking steps towards development is called Administration. This is the new definition in the modern world.

•
26 Sep 16
Well I slightly agree with what have you said. But it all depend on the intention of the leader if he will really help those in need or he will only take advantage of its position. By the way, it is in the Philippines. The new administration here is doing all he can do for the peace and development of the country. I already see development in this area that we served. There is also school for them, the road to the main road, but not yet that smooth at least it is now easy for them to go in a public place like market, church and hospital. Only a little patience for them and all will be okay. I salute with our nw administration since he is all doing what he can for the country. :D

• Oxford, England
26 Sep 16
This sounds really worthwhile. What country was it in?

•
26 Sep 16
Yup it is. It's here in the Philippines.