Current Philippines President?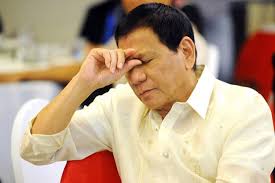 Philippines
4 responses



• Philippines
28 Sep 16
A good comparison is this below China has 1 aircraft carrier. Russia has 1 aircraft carrier U.S.A has 10 aircraft carriers Why does he want to ally with these weak countries? Recently the U.N. sanctioned Russia, Russia financially in trouble right now. China is already invaded our country Philippines so why with China? Our number one enemy? Why ally with a bully china? Many Multi National corporations here in the Philippines owned by American corporations. For example the Call Center Industry a.k.a BPO. Really DUTERTE STUPID PRESIDENT....


• Philippines
29 Sep 16
I voted for Roxas and Robredo, but because of my mom and wasn't very sure with digong. Some how I felt relieved about it these days. My vote on roxas didn't count either since I shaded another candidate by accident.

• Philippines
29 Sep 16
@iridion9
I didn't like it when poe run separately from Roxas, I mean the votes wouldn't have been cut in half if she had agreed to be his running mate.



• Adelaide, Australia
3 Oct 16
Your current President, for all his personal shortcomings, has his priorities right. The people voted quite clearly against an increased US presence, more US bases in the Philippines & war; instead they voted overwhelmingly for desperately needed infrastructure that would directly benefit every person - rich or poor & collective, collaborative building of it in partnership with the Chinese as well as much closer trade ties there, lasting peace & a more equal distribution of wealth. Or perhaps you want a big, strong nation who will defend the Philippines? Have you had a detailed look at the total US "Defense Forces"? They are not built for defense, but for attack! China & Russia are almost entirely built for defense! Can "attack" forces, already thinly stretched across the globe, be relied upon in times of a crisis to defend a bunch of islands halfway across the Pacific? Or is a centralised true Defense Force from a near neighbour, quickly deployed in large numbers and more than adequately manned, more suitable? Your President wasn't born yesterday. He knows where the future lays. FYI, the Chinese economy actually overtook the US economy in 2014 & is way ahead at this point.

• Adelaide, Australia
3 Oct 16
@iridion9
Whose territory? Why did you not develop it at all & populate it, even with enormous US support after WW2? Why are you so ready to go to war over a handful of rocky outcrops that the Philippines has not really valued just because a Rigged Court in Europe has ruled in your favour after not bothering with the evidence at all? There's a lot of "proof" on both sides, so I've learned - and posted here in other discussions. You might like to read them sometime

. Anyway, that's what the talks are all for. They may not resolve anything, but they should arrive at some sort of compromise whereby everything comes out into the open & some compromise that serves the interests of both nations is agreed upon for the long term too. If you don't host WW3, then the future is already starting to look bright for your country. It took a lot of guts to tell a US President to stop dictating terms to the Philippines. I'll give him that. He must also be surrounded by more than a Few Good Men. And tell us, are those islands the Chinese "stole" from you being prepared for defense or attack? If defense, then you might well be very grateful the Chinese are there in numbers, fighting for you, having developed those islands within months which the USA never touched on your behalf for decades.


• Kakamega, Kenya
29 Sep 16
He is doing his job as he knows best