Coco's big adventure and other things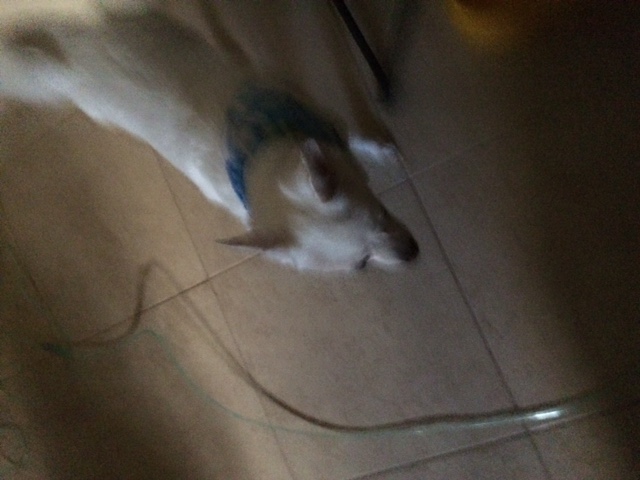 Holiday, Florida
September 29, 2016 7:10pm CST
So she is back from the vet without much said about what is wrong. the blood test showed nothing unusual , so now they say it has to be her arthritis or neurological. which is terrible either way. Just will try and keep her well as long as I can I guess. oh and they said it could be her heart as she does have a heart murmur . thing is I can't keep her from getting excited and scared. just how little dogs are. Grandson went along also and they stopped at Clays mom's house, so Coco got to run all around over in their yard which is sure good for her. When she got home she was of course starved. I had gotten her some soft Beneful food. looks good enough for humans.

mostly because the vet said she also has a loose, bad tooth. so sad that she is so old now.

When daughter took her halter off , she was surprised to see the cute little bandana they put on her. I tried to get a photo before I took it off but she would not look at me so this is all I could manage. I did not leave it on cause I can't keep her from crawling under the bed and I don't want her getting stuck up under there . could be a lot of her problems with her bones too, because she keeps hunkering down and getting under there. Then we have another problem of course not concerning her. seems daughters shower will not turn off and the man can't get here till Monday to fix it. so we have to turn water off to the house and flush with jugs filled. talk about disgusting ! remember how I said, they break everything? yep, that's it.

as for me, I finally took antibiotics for this cold or whatever they all got here. seems to be working but giving me a bit extra pains. so that's what happened today. photo of Coco not being still so I could show off the cute bandana
10 responses

• Garden Grove, California
30 Sep 16
hi bunnty bon I hope Coco gets better soon sory about the broken shower that sure no fun wish they would be more careful for your sake.You have had coco for a long time now'she sure is a c utie hope things get better for you old friend hugs.

• Holiday, Florida
30 Sep 16
yes thanks I am sure you remember how long as we been on mylot so long together and you know I had her even before that. the shower is in their room and bet it would not have broken if she had given that one to me . because I share the one out here with 2 other people and not broke yet. lol. except it just seems nastier as I want it flushed already but not sure when more water will be available

• Garden Grove, California
7 Oct 16
@bunnybon7
yes I surely do hope things do get better for you my friend

• Holiday, Florida
10 Oct 16
@Hatley
thank goodness daughter made sure the water got fixed.


• Jacksonville, Florida
30 Sep 16
It makes me so sad when dogs get older. =( My dog has been getting more and more gray hair - it breaks my heart because I know what will be coming too soon for my liking.

• Holiday, Florida
30 Sep 16
yes coco used to have a little pink nose and her belly and paws were pink. now they are dark . she is 13 almost 14 yrs and everyone tells me to prepare but it is to hard for me to except

• United States
30 Sep 16

• United States
1 Oct 16

• Holiday, Florida
1 Oct 16


• United States
30 Sep 16
aw, don't she look cute? i'm sure that runnin' 'round did her lots 'f good. i hope that the meds help her, hon. not sure 'bout the shower thingy? 'tis 't the handle that turns the water off? i've toted many jugs 'f water o'er the years to tend to 'needs', not much fun but such's life. i hope that'cher cold/crud gets better, hon. be sure'n take some probiotics 'long with those antibiotics to protect yer gut best ya can.

• Holiday, Florida
30 Sep 16
thanks for the advise and the empathy . the way she explained it is yes the shut off handle is broken. I haven't been in her bathroom to see. as I said in another post, when they moved in she refused to let me have the master bedroom which they have a private bath in it. so I end up sharing with 2 other adults. which feels nastier to me.

• United States
30 Sep 16
@bunnybon7
yer welcome. fixin' that faucet handle aint too complicated if'n somebody there'd jest take the initiative...which i sadly know aint gonna take place :( bet such's most inconvenient with that babe there. 's fer the master 'suite', i'd say whome'er paid the most got the biggest room 'n the 'prize' 'f their own loo, lol.

• Holiday, Florida
1 Oct 16
@crazyhorseladycx
i know. right? but don't want it now. its the one they broke the shower in . Clay her bf says he can fix it but she says she ain't got the money for the parts. really? i think its a hint for money then it would not get fixed anyway. momma didn't raise that big a fool as they say. i already have been fooled to much here


• Boise, Idaho
30 Sep 16
Sounds like Coco has a busy time. I bet it was poison from somewhere. If the vet can't find anything else. She's older and more sensitive to things. How old is she now?

• Holiday, Florida
30 Sep 16
she is 13 yrs. almost 14 in Feb. i had her before i even started here on mylot as you know and we been here a long time as friends. lol i keep wondering if its something bad she ate and it is just now a bit wearing off

• Boise, Idaho
1 Oct 16
@bunnybon7
.... Thirteen is when my childhood dog passed. We were both born on the same day. Yeah, I think she injected something.

• Holiday, Florida
1 Oct 16
@celticeagle
i just hope she don't again. i sometimes just can't walk her myself and when grandson does it, i am not sure how well he watches her.


• Canada
30 Sep 16
I hope she stays well for a long time. It is so difficult when pets aren't feeling well.

• Holiday, Florida
1 Oct 16
yes and i do wish she would except i kind of doubt it due to her age. thanks

• Canada
1 Oct 16

• Holiday, Florida
1 Oct 16


• United States
1 Oct 16
If she feels like running around, I see that as a good sign. But yah, it's tough when pets get older. Hang in there Coco - and you too
@bunnybon7
!


• Holiday, Florida
1 Oct 16
I know and she does this running and jumping like a puppy again. its why I find it hard to accept that she is just old

• United States
3 Oct 16
@bunnybon7
Maybe she doesn't think she is old either



• Holiday, Florida
3 Oct 16
@much2say
I know and may be some of the problem as sometimes I forget and hurt myself trying to do things I used to do. so maybe she does the same

• Banks, Oregon
30 Sep 16
Hope Coco will be ok and, lives many more years.

• Holiday, Florida
30 Sep 16
thanks. it would be nice if she could see me out. lol

• Banks, Oregon
30 Sep 16
@bunnybon7
Poor Coco reminds me of my Moms old dog Pluto when he got old.

• Holiday, Florida
30 Sep 16
@TRBRocks420
it is sad they get older so much quicker then us plus we don't think of that when we get them as pets how hard it will be when that happens


• Holiday, Florida
30 Sep 16
the landlord is supposed to pay for that. i just hope he gets it done faster. coco is a lucky dog to have someone that loves her more then themself. lol

• Elberton, Georgia
3 Oct 16
Sometimes it is trial and error to pinpoint what is wrong if labs are okay because they can't talk to tell what is wrong.